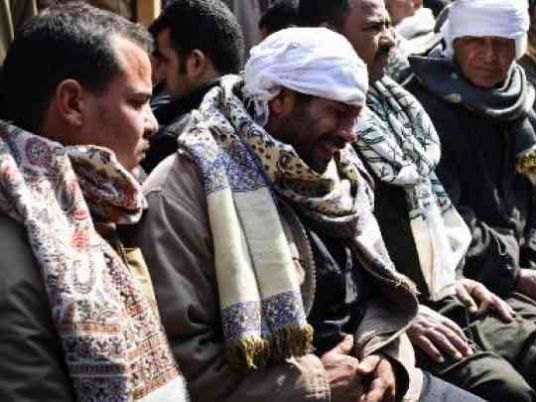 Facing grim economic prospects at home, desperate young Egyptians are seeking jobs in Libya – a country sliding into lawlessness where armed groups battle for control and dozens of their compatriots have been kidnapped.
Tackling unemployment in Egypt – where half of the rapidly growing population is under 25 – is one of the toughest challenges facing President Abdel Fattah al-Sisi.
He rules a country that has seen two presidents deposed in the past four years. The 2011 popular uprising that toppled autocrat Hosni Mubarak was fuelled in part by anger over joblessness.
Affording a home and getting married is still difficult under Sisi for many young men unable to make a living.
The political and social unrest since Mubarak was ousted has scared foreign investors and tourists away from Egypt, the world's most populous Arab nation with 90 million people. This has exacerbated the job crisis, and the unemployment rate has climbed from 8.9 percent to 13 percent in that time.
Thousands of Egyptians have travelled to neighbouring Libya in search of work since 2011, despite their government advising against going to one of the most dangerous countries in the region.
Desperate for work, Egyptians, many from impoverished villages in the south where underdevelopment has been a problem for years, flock to Libya despite the dangers. It started during the 1969-2011 rule of Muammar Gaddafi when Libya was more stable and allowed them to establish communities and networks that they have been tapping into since, despite the increased risks.
They can be seen working on building sites, in factories, restaurants and shops in cities across Libya even as it has descended into chaos since a revolt toppled Gaddafi four years ago and where two rival governments vie for power.
Some Libyan oilfields continue to produce crude for export despite the near anarchy, though Egyptian migrants are not to known to have jobs in this highly skilled sector.
In the Egyptian village of Al-Our, about 200 km (125 miles) south of Cairo, it is easy to see why young men take the risk.
There are no paved roads, clean drinking water or adequate health care – the kind of conditions that have driven young men to give up on the state and join militant groups in the past.
Jobless men sit beside a canal filled with stinking, stagnant water.
Samuel Alham lived with his wife and three children, his three siblings and their children, and his elderly parents in a small cement house. Like many young Egyptians, he dreamed of one day buying a small plot of land to build his own home.
The 30-year-old's decision to go to Libya to work as a plumber was costly. In December, he was kidnapped on his way back to Egypt.
He was one of the 21 Egyptians whom Islamic State militants beheaded, according to a video released earlier this week, and which prompted Egypt to carry out an air strike on militant targets in Libya on Monday.
'HOW CAN PEOPLE EAT?'
"I want my son. He went to support his children. He did nothing wrong," said Alham's weeping mother, when Reuters spoke to her in January, a few weeks before the video was released.
He was among 27 Egyptians – low-paid workers – who had been abducted in Libya since August, 13 of them in January alone.
Militants claiming allegiance to Islamic State, the group that has seized swathes of Iraq and Syria, said they were responsible for the kidnappings of 21 of the "crusaders". The fate of the remaining six is unknown.
On Monday, thousands of traumatised mourners gathered at the Coptic church in al-Our, struggling to come to terms with the fate of their compatriots, 13 of whom were from al-Our.
Al-Our is in Minya Province, a traditional bastion of the Muslim Brotherhood. Sisi has cracked down hard on the Brotherhood since, as army chief, he toppled President Mohamed Mursi – a top Brotherhood figure – in 2013 after mass protests against Mursi's rule.
The government has said it plans to invest in Minya, which was also a hotbed of militancy under Mubarak in the 1990s, and other parts of southern Egypt after decades of neglect.
But just outside Al-Our, cars with Libyan licence plates are a reminder of the tough decisions forced on its residents.
Abanob Ayyad, in his early 20s, was unable to make ends meet or support his younger siblings, let alone save money to buy an apartment so he could get married.
So he tried his luck in Libya, as a construction labourer.
The funds Ayyad sent home to pay for his brother and sister's college education ended abruptly in January when militants stormed his home in the Libyan city of Sirte and dragged him away along with 12 other Egyptian labourers.
He too, like 20 other compatriots, was marched to sea, forced to kneel and decapitated by Islamic State.
"There is no work that can help here. How can people spend, eat, learn?" his mother Aziza Younan told Reuters in January.
"The country does not help them or treat them fairly … what can they do?"
FLIGHT INTO UNKNOWN
At the World Economic Forum in Davos last month, Sisi said Egypt aimed to lower unemployment to 10 percent by 2020. He has announced major infrastructure projects such as a second Suez Canal and major roadworks designed to create jobs.
But those promises have yet to stir hope in villages like Al-Our.
"I have made all attempts to get a job for my son, either in the government or the private sector, but in vain," said Bushra Shehata, whose son has been looking for a job since graduating from college nine years ago.
"People need connections to get a job," he added, echoing a common complaint made under successive Egyptian leaders.
But across town, more and more Egyptians lined up to buy tickets at Libyan Airlines offices.
One of them, a furniture painter who came back from Libya five months ago hoping for work in Egypt, said he had no choice but to return despite the growing risks.
Heavily armed gunmen stormed a luxury hotel in Tripoli favoured by Libyan officials and visiting delegations on Jan. 27, killing at least nine people, including foreigners, before blowing themselves up with a grenade.
"We are going and it is God who is protecting us," said the painter, before rushing to the airline ticket counter when his number was called.
Egyptian security officials would like their countrymen to return home but acknowledge many need to stay in Libya to support their families – and others are still likely to go.
"We expect more of these killings," a security official told Reuters.