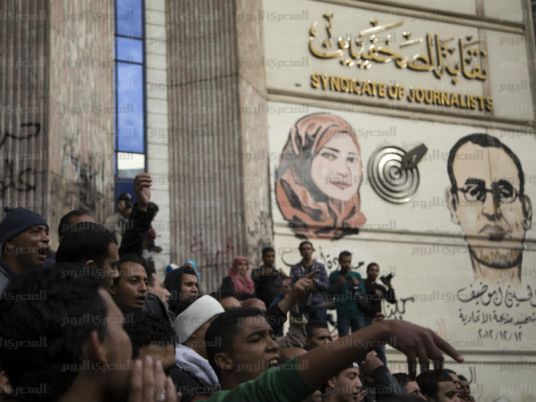 The Journalists Syndicate remains unsatisfied with the government-approved anti-terrorism bill despite changes made to Article No.33, which stipulated a minimum of two years in prison for journalists reporting information on anti-terrorism operations that are at odds with official statements., which remove jail terms related to journalists.
The draft still awaits the final approval from the presidency.
The Cabinet removed the jail-term stipulation, replacing it with a LE200.000-LE500.000 fine.
But the changes, according to the syndicate, still represented a setback for press freedom, and an alternate method of sending journalists to prison. Syndicate members vowed to challenge the draft judicially.
"Jailing a journalist is a mercy, compared to that exaggerated fine", Gamal Abdel Rahim, the syndicate's general secretary, told Al-Masry Al-Youm. "No journalist can afford it, it is a backdoor for sending journalists to prison and could cause newspapers to shut down".
Khaled al-Balshy, a member of the syndicate's board, said the amendment toughened, rather than changed, the penalty. "The press is the target, it is meant to be turned into a bulletin of the ruling regime", Balshy said.
The government introduced the controversial draft law amid escalating violence between Egypt's military and militants in North Sinai who had killed dozens of troops two weeks ago, shortly after the assassination of late general prosecutor Hisham Barakat at the end of June.
Egypt remains among the world's top jailers of journalists, according to the Committee to Protect Journalists.
Edited translation from Al-Masry Al-Youm