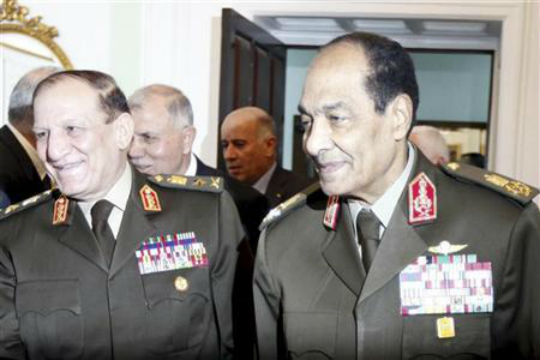 Civilian prosecutors plan to speak to those who have filed complaints against former military council head Hussein Tantawi and his deputy, Sami Anan, before their grievances are referred to the Military Prosecution for further investigation, sources at the Justice Ministry told Al-Masry Al-Youm.
The sources said prosecutors on Monday began investigating a complaint filed by former MP Mohamed al-Omda, accusing Tantawi, Supreme Constitutional Court head Maher al-Beheiry and former Prime Minister Kamal al-Ganzouri of squandering public funds.
The sources, however, said Justice Minister Ahmed Mekky excluded Tantawi from complaints related to the killing of protesters during the Supreme Council of the Armed Forces' rule, only considering complaints against Anan and former military police commander Hamdy Badeen.
Various complaints have been filed against Tantawi and Anan demanding that they be prosecuted for corruption and the murder of protesters in several bloody incidents during the transitional period from 11 February 2011 to 30 June 2012.
President Mohamed Morsy sent both military leaders to retirement in August before granting them honorary medals.
Edited translation from Al-Masry Al-Youm