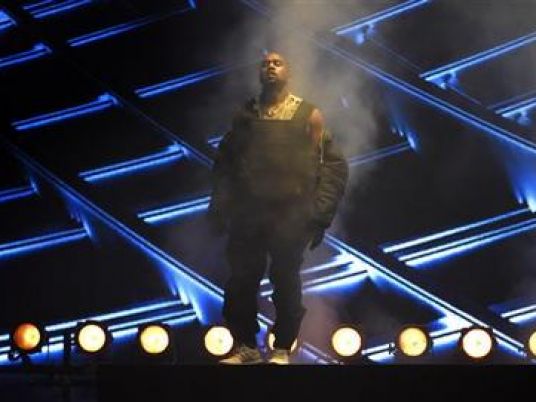 Kanye West pranced across the stage and knelt on his knees during a performance that left many repeating the words of his songs at one of Atlanta's most popular hip-hop concerts.
West capped a show filled with other hip-hop stars from Drake, Nicki Minaj and Future at Hot 107.9's Birthday Bash 20 on Saturday night. The Grammy-winning rapper performed some of his biggest hits including "Gold Digger," "Stronger" and "Jesus Walks" in front of a sold-out crowd in Philips Arena.
WHTA, known locally at Hot 107.9, celebrated its 20-year anniversary. Through Birthday Bash, the radio station became known for featuring some of hip-hop's top artists for that particular year.
Past artists to perform at the annual show have included Jay Z, Usher, Lil Wayne, T.I., Chris Brown, Rick Ross and Young Jeezy. West returned for a third time.
This time, West stood on a nearly pitch-black stage with small amount coming from above much like he did at the Grammys in February. He kicked his set off with "Power," sang about his late mother on "Only One" and brought out 2 Chainz in a rousing performance of "Mercy."
Sporting ripped jeans and gray sneakers he designed, West thanked attendees for giving him the inspiration to push forward in his music career. Members of audience were found repeating the words of his songs, especially on "Can't Tell Me Nothing" and "Blood on the Leaves."
West followed the strong performance of rapper Future, an Atlanta-based rapper who kept his hometown crowd energized throughout his set. Most stood to their feet as Future performed some of his club bangers from "Shhh," "Karate Chop" and latest single "(Explicit) Up Some Commas."
Future surprised the crowd by bringing out recently engaged rap couple Nicki Minaj and Meek Mill, as the crowd roared with amazement. Minaj didn't do any songs but grabbed the mic and said a few words just before Mill did his song "Dreams and Nightmares."
After that, Future then gave the stage to Drake, who kept the energy high with "Know Yourself" and "10 Bands."
Other performers included Ludacris, Wale, B.o.B. and Southern favorite Mystical.
The Birthday Bash weekend includes four concerts in three days. A slew of rappers including Bun B and Trick Daddy performed at the "Classic Throwback Concert" on Friday. Kevin Gates and Scotty ATL expect to perform Sunday.