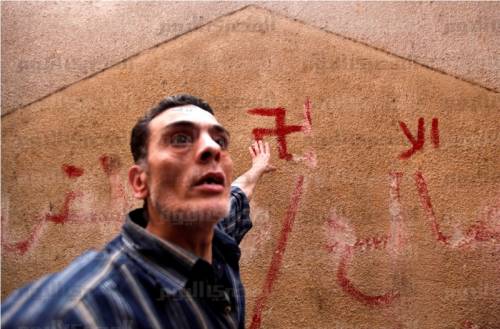 The Qalyubiya Prosecution released on Wednesday two minors believed to have triggered fatal sectarian clashes in Khosous when they painted a crooked cross on the walls of an Islamic school run by Al-Azhar.
One resident told Egypt Independent the graffiti resembled a swastika.
No charges had been made against Ahmed, 12, and Saleh, 13, who said they painted the graffiti and wrote their names but had no idea what the image stood for.
Their action sparked armed fights between Muslims and Christians over the weekend in the Delta town of Khosous in Qalyubiya Governorate, leading to the death of four Copts and one Muslim.
Two others died in later clashes on Sunday after the funeral procession for the four Christians came out of St. Mark's Coptic Orthodox Cathedral in Cairo.
Prosecutors at Qalyubiya's Khanka renewed the detention of 15 suspects allegedly involved in the fighting outside the Mar Girgis Church in Khosous, charging them with the possession of firearms and other weapons, as well as thuggery and rioting.
The prosecutors also ordered the arrest of 20 others.
Edited translation from MENA