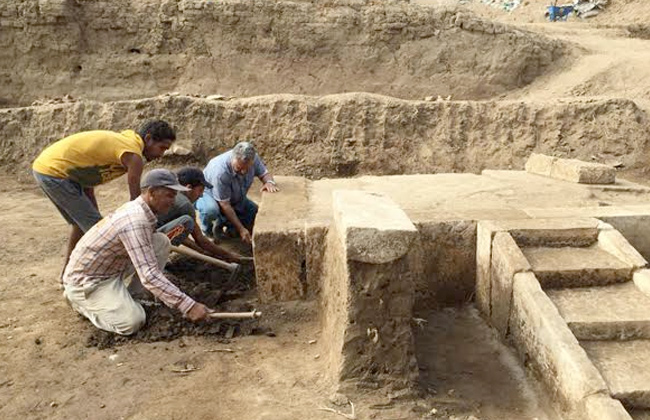 The entire celebration compartment of King Ramses II has been unearthed by the Archaeological Mission of Ain Shams University, which operates in the Arab al-Hesn area in Cairo's Matareya neighborhood, the Antiquities Ministry announced on Thursday.
Part of the compartment was unearthed during archaeological excavation by the same mission, in March / April 2018. Archaeological excavation was completed this season.
A few steps at the threshold of the compartment have also been unveiled.
Former Antiquities Minister Mamdouh al-Damaty, who heads the archaeological mission, described the discovery as "unique", as the discovered compartment dates back to the New Kingdom of Ancient Egypt.
The compartment lies in Ra's temple in Ain Shams district.
According to Damaty, the discovered cabin was where King Ramses II sat during the celebration of his crowning festival, and a jubilee called the Sed festival.
The compartment may have been used for the same purpose throughout the eras of Ramses kings who followed Ramses II, he continued.
An important collection of mud-brick walls, which contained a large number of storage jars of pottery was also discovered. Still in its original location since the Third Intermediate Period, it indicated that the discovered area was used to provide the temple with its needs for grain.
Damaty added that the mission also revealed many other artifacts, including scarabs, pottery, and some stone blocks with hieroglyphic inscriptions, one showing the cartouche of King Ramses III.