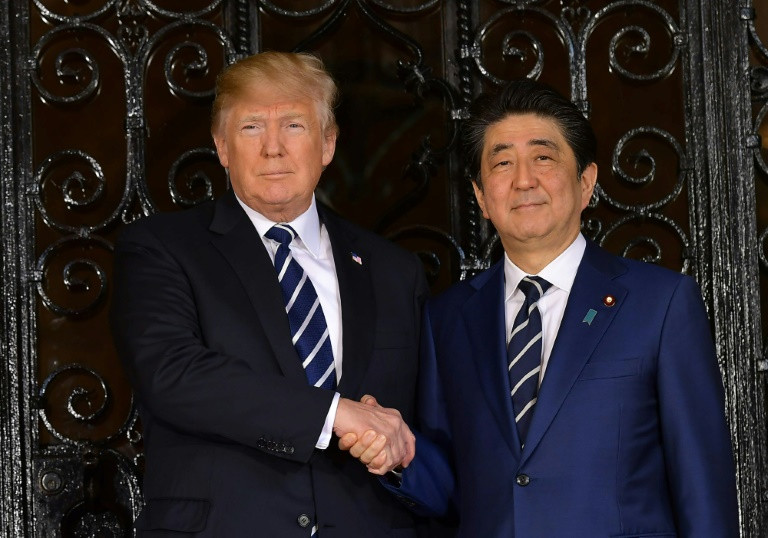 President Donald Trump gave his blessing to talks aimed at formally ending the Korean War in a series of diplomatic revelations Tuesday, as reports said CIA director Mike Pompeo had met Kim Jong Un on a secret visit to Pyongyang.
Raising expectations for a major breakthrough at a series of upcoming summits, Trump said "a great chance to solve a world problem" was within reach on the Korean peninsula.
The 1950-53 Korean War ended in an armistice rather than a peace treaty, leaving the two sides technically still in a state of conflict, and the Demilitarized Zone between them bristles with minefields and fortifications.
Seoul officials say they are looking at ways to secure a new agreement, with the leader of nuclear-armed North Korea Kim Jong Un and the South's President Moon Jae-in due to hold a summit next week.
"We are looking at changing the current armistice regime to a peace regime," an official of the presidential Blue House said Wednesday.
The comments came after the US president said at his Palm Beach, Florida resort, that the inter-Korean summit could, with his "blessing," discuss a peace treaty to formally close the conflict.
"People don't realize the Korean War has not ended. It's going on right now. And they are discussing an end to the war," he said. "Subject to a deal they have my blessing and they do have my blessing to discuss that."
Trump and Kim have not spoken directly, the White House said, but the US president confirmed that Washington and Pyongyang had been in contact at "very high levels" to prepare for a historic meeting between them.
The Washington Post reported that CIA director Mike Pompeo had met Kim on a secret trip to the North over the first weekend of April, shortly after he was nominated to be secretary of state.
Both the White House and the CIA declined to comment on the report.
"Five locations" were being considered for the summit with Kim, Trump said.
"That will be taking place probably in early June or before that assuming things go well. It's possible things won't go well and we won't have the meetings and we'll just continue to go on this very strong path we have taken."
US officials say that no decision has yet been made on a meeting venue, but China, North Korea, South Korea, and Panmunjom in the Demilitarized Zone between the two Koreas are seen as possible locations.
The 1953 armistice was signed in Panmunjom and it will also see the April 27 summit between Kim and Moon, with officials from the two Koreas meeting there Wednesday in preparation.
The US-led United Nations command, China and North Korea are signatories to the half-century-old armistice, while South Korea is not.
"We are hoping for some kind of an agreement between the South and North," the Blue House official said.
"But it can't be settled just with an inter-Korean agreement. Afterwards, all parties involved must review and discuss the final form of the agreement," he said, adding that three-party or four-party talks were possible.
'Unwavering determination'
Trump made his remarks alongside visiting Japanese Prime Minister Shinzo Abe, with both leaders eager to iron out differences on trade and display a united front on North Korea.
Abe thanked Trump for agreeing to bring up the issue of Japanese abductees taken to North Korea, a major domestic issue.
Last year, Trump and Abe traded fist bumps and high fives as they snuck in a round of golf in Palm Beach and a return leg near Tokyo, tucking into burgers with ketchup for good measure, and Trump indicated they would try to play 18 holes Wednesday.
But with Abe's approval rating languishing at its lowest level in years and Trump mired in controversies and crises too numerous to list, both are under domestic pressure.
Trump could do with a political victory — perhaps in the form of opening up trade negotiations with Japan — as he seeks to calm an increasingly restless and crisis-weary base, and he has taken a harder line on his promise to rewrite the global terms of trade in America's favor.
The US president has announced tariffs on billions of dollars of Chinese imports, hit out at what he called European Union protectionism and warned he may walk away from a longstanding trade deal with Mexico and Canada.
He rejected the idea of the US re-entering the TPP Pacific trade agreement Tuesday, tweeting: "I don't like the deal for the United States. Too many contingencies and no way to get out if it doesn't work.
"Bilateral deals are far more efficient, profitable and better for OUR workers," he added.
But Abe was cautious on trade ahead of the talks, saying only that he would "exchange opinions based on our shared understanding that Japan and the United States will lead the economic growth of the Indo-Pacific region through free and fair trade."