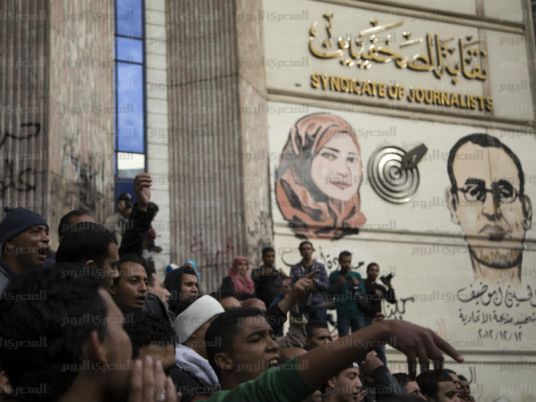 Towards A Fair Labor Law campaign says it backs protests by workers at the Finance Ministry outside the Journalists Syndicate on Monday, which is voicing discontent with several articles in the civil service law.
Hundreds of trade union workers staged a protest in front of the Journalists Syndicate on Monday, demanding the abolition of the Civil Service Law, raising
banners demanding a minimum and a maximum wage for public servants
.
Participating in the protest were workers of the public transport, taxation customs, antiquities and teachers syndicates.
The law, enacted in March, regulates appointment criteria, vocational degrees, payments, retirements and promotions for civilian workers at government agencies. It has drawn criticism of labor rights activists and a number of trade unions which had vowed to lobby against the document. The government, meanwhile, says the law would bring a remarkable improvement to the state's administrative bodies.
"Since the law 18\2015 on civil service was issued, it has enraged many state workers who are subject to it, and many have decried its encroachment upon their rights ingrained in the older, yet flawed, law," a statement by the campaign said.
"The vast majority have been anticipating the result of the law's enforcement, especially with the government having claimed it would raise workers' salaries," said the campaign, which pointed that, conversely, salaries were reduced at a number of state agencies, such as the Public Transport Authority and the Egyptian Tax Authority.
The campaign said it supports protests by the tax authority workers on Monday, and backs doctors, teachers and engineers syndicates in their objection to the law.
"The campaign calls upon all trade unions and political groups to show solidarity with 6 million employees representing 21 percent of Egypt's labor force in their battle to undermine that unfair law," it stated.
Edited translation from Al-Masry Al-Youm