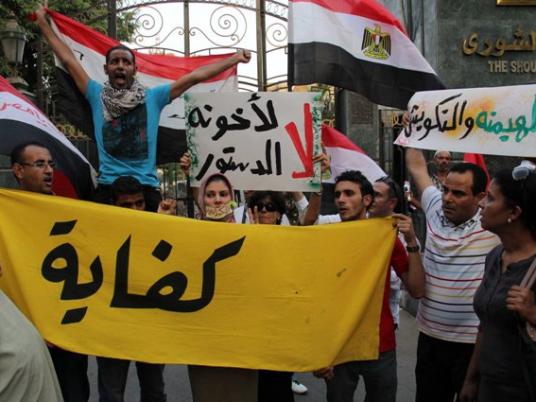 In its first session, the State Council's Administrative Court on Tuesday adjourned a lawsuit filed by advisers of the Administrative Prosecution Authority and the State Lawsuits Authority demanding the suspension of the Constituent Assembly tasked with drafting the new constitution.
According to the state TV website, the next hearing would be on 16 October.
The plaintiffs demanded that the court orders an official copy of the initial articles that were drafted by the Government System Committee, one of the Constituent Assembly's committees, regarding the State Lawsuits and Administrative Prosecution authorities. They also wanted to see the amendments introduced by the drafting committee, which they say has canceled those two texts.
"They want to annihilate us though we have more legal expertise than the public prosecution," said State Lawsuits Authority member Khaled Fawzy.
Television cameras and photographers were banned from filming the session, which was considering 40 appeals demanding to dissolve the Constituent Assembly.
Members of the two authorities filed the suit against the Constituent Assembly Monday demanding that its work be suspended and that the legislation regarding its formation be annulled.
According to the state TV website, the lawsuit was filed on Monday before the State Council's Supreme Administrative Court. It cites President Mohamed Morsy, Prime Minister Hesham Qandil and assembly chairman Hossam al-Gheriany.
The office of the administrative prosecution had announced on Sunday that it would go on a three-day strike starting on Tuesday in order to pressure the Constituent Assembly to make its powers clear in the draft constitution.
State-owned news agency MENA reported on Friday that those who had called for the protest feared that the administrative prosecution would be separated from the judiciary and would be moved to the executive branch under the new constitution.
Edited translation from Al-Masry Al-Youm