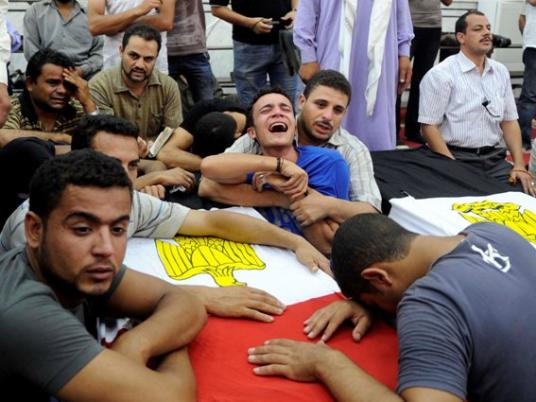 An Egyptian lawyer has accused the Hamas government in Gaza of masterminding the murder of 16 Egyptian border guards last August.
On Thursday, Samir Sabry filed a complaint with the prosecutor general, claiming Hamas had ordered the deadly attack on a guard post in Sinai on 5 August.
He also said there were 32 people involved in planning and executing the assault.
Sabry described the incident as premeditated murder and a breach of Egypt's sovereignty.
MBC Masr satellite channel reported Wednesday that Al-Ahram Al-Arabi, a weekly magazine owned by Al-Ahram Newspaper and Publishing House, had learned the identities of the perpetrators from a source inside Hamas and was set to publish their names on Saturday.
According to the magazine and MBC, Ra'ed al-Attar, a key member of the troops that kidnapped Israeli soldier Gilad Shalit in 2006, was the chief orchestrator of the violence.
They alleged that Ayman Nofal, a leader of the Izz ad-Din al-Qassam Brigade, Hamas' military wing, was also involved. He had been jailed for storming the Egyptian border with other Gazan residents in 2008 but escaped from Marg prison in 2011.
The publication also named 39-year-old Mohamed Ibrahim Salah Abo Shamalla, known as Abo Khalil, who is a senior Hamas leader.
MBC Masr quoted Ashraf Badr, chief editor of Al-Ahram Al-Arabi, as saying the information came from a prominent figure in Hamas and added, "We bear the responsibility. We double checked this information with security sources in Egypt."
"The accused are being investigated and the president's office has a detailed report on the investigation," he added.
Badr said the attack was motivated by the Armed Forces campaign to destroy cross-border smuggling tunnels to protect national security.
The government had said the attackers were extremist militants operating in Sinai.
President Mohamed Morsy and Prime Minister Hesham Qandil have said that investigations are still ongoing and promised justice for the dead soldiers.
Edited translation from Al-Masry Al-Youm