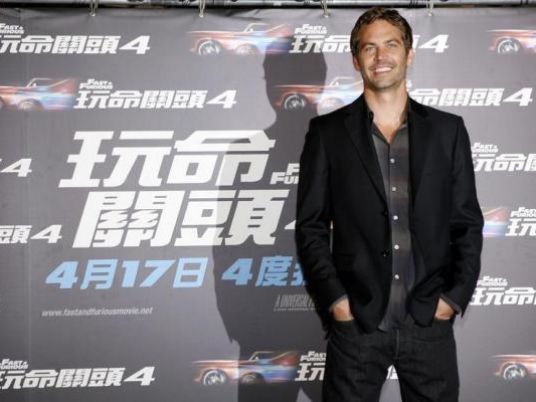 Lawyers for German automaker Porsche said actor Paul Walker was responsible for his own death in a crash of a Porsche sports car, in response to a wrongful death suit filed by Walker's daughter, court documents showed.
Cranbrook Partners, representing Porsche AG and other defendants, said in papers filed last week in Los Angeles Superior Court that Walker's death was the result of his "own comparative fault."
In November 2013 Walker was a passenger in a 2005 Porsche Carrera GT driven by Roger Rodas when the vehicle careened into trees and a utility pole in Santa Clarita, northwest of Los Angeles, killing both men.
After a four-month investigation, Los Angeles officials said the crash had been caused by excessive speed and not mechanical failure.
Meadow Walker, the actor's only child and sole heir, filed a complaint in September accusing Porsche of skimping on safety features for the vehicle, which could have prevented the crash or at least kept the actor alive. Her lawsuit requested a jury trial.
Lawyers for Porsche said Walker had "knowingly and voluntarily assumed all risk, perils and danger" of the 2005 Carrera GT, and that the car, owned by Rodas, had been "abused and altered," and "was misused and improperly maintained."
"That abuse and alteration proximately caused or contributed to the incident and to Mr Walker's death," Cranbrook said.
Meadow Walker's attorney Jeff Milam said yesterday that Porsche was "trying to deflect its own responsibility by blaming the victim."
"Paul was the passenger in a car that was not designed to protect its occupants. While the speed may have been unlawful, it was well below the vehicle's advertised capabilities," Milam said in a statement.
He added that Walker survived the impact of the crash, but "burned to death because of Porsche's defective design."
Earlier this year, attorneys for Porsche said Rodas, the driver of the vehicle, was to blame for the crash after Rodas' widow filed a lawsuit against the automaker alleging negligence and wrongful death, among other claims.
Walker's death led to a temporary halt in production of "Furious 7," an action movie in the "Fast & Furious" franchise about illegal street car racing.
The film was released this year after Walker's brothers helped finish his scenes.