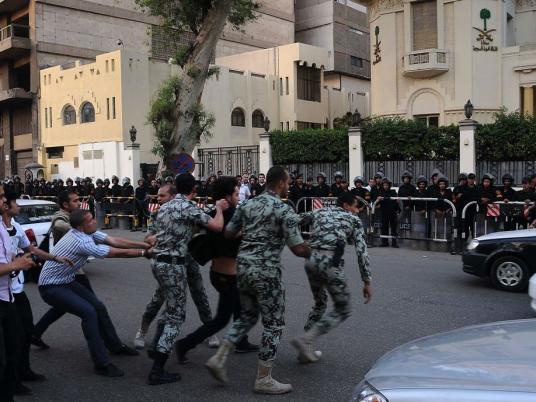 Labor attache at the Egyptian Embassy in Saudi Arabia Mohamed Bahaa Eddin called on Egypt to intervene with Saudi authorities on behalf of Egyptians employed in the Saudi construction sector.
Saudi authorities have recently announced they will lay off 56,000 Egyptian laborers for violating residency and work procedures.
Bahaa Eddin called on Egyptian authorities to provide an alternative for laborers.
Saudi authorities announced it would apply the law restricting foreign labor to a ratio between 15 to 35 percent in order to solve the unemployement crisis among Saudi youth, according to Eddin.
Eddin pointed out that Saudi Arabia has no entities, such as trade unions or associations, to represent workers and resolve such crises, and will require the establishment of such entities in the near future.
Eddin also warned of the repercussions of the decision for Egypt, as it would increase domestic unemployment rates and
cause a crisis in the construction sector, which is currently suffering from a severe recession.
Hamdy Abdel Azim, head of the Recruitment Division at the Cairo Chamber of Commerce, said he had not received any notices from the Saudi companies on layoffs.
Abdel Azim pointed out that the Egyptian Foreign Ministry resolved similar crises in Saudi Arabia and other Arab countries over the past years.
"The number of foreign workers in the Saudi market in all sectors are about 9 million workers, including their families," he said. He added that Egyptians contribute between 2.5 and 3 million workers and most of them have legal contracts.
The Saudi authorities announced it would deport more than 56,000 Egyptian laborers for violating work and residency permits, while 83,000 others were allowed to adjust their legal situation.
Edited translation from Al-Masry Al-Youm