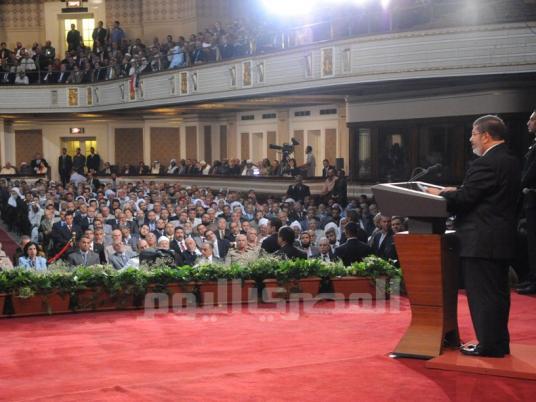 Constitutional law experts have offered different opinions on President Mohamed Morsy's promise that Parliament will return soon.
During his Saturday speech at Cairo University, Morsy received applause when he said, "The elected institutions will be reinstated while the armed forces will return to their basic tasks."
The People's Assembly was dissolved by military council order after the Supreme Constitutional Court ruled on 14 June that the parliamentary elections law was unconstitutional because it allowed candidates affiliated with political parties to run for the one-third of seats reserved for independents.
The mouthpiece of the Muslim Brotherhood, the Freedom and Justice daily newspaper, published an extended feature on Monday entitled, "Parliament returns soon."
Freedom and Justice cited Mahmoud al-Khodairy, the former vice president of the Court of Cassation and an independent member of the dissolved Parliament, as saying that the president has the right to issue a decree to call a parliamentary session to discuss how to enforce the SCC's verdict.
Khodairy said that the president also has the right to call for a public referendum over the verdict. Freedom and Justice cited another former Court of Cassation vice president, Ahmed Mekky, as saying that Parliament will be fully reinstated if the people vote in favor of that in the public referendum.
Mekky also said that Parliament can issue legislation stipulating that the SCC's verdict will be enforced in the next parliamentary elections.
Atef al-Banna, a constitutional law professor at Cairo University, said that Parliament can still hold sessions because the SCC's verdict annuls only one-third of Parliament.
State-run Al-Ahram newspaper quoted Salah Eddin Fawzy, head of the Constitutional Law Department at Mansoura University, as saying that the SCC's verdict must be accepted by all state authorities.
Hossam Eissa, a law professor at Ain Shams University, agreed with Fawzy, adding that all executive officials are obligated to enforce the SCC's verdict. He said that putting the verdict to a public referendum would be "absurd."