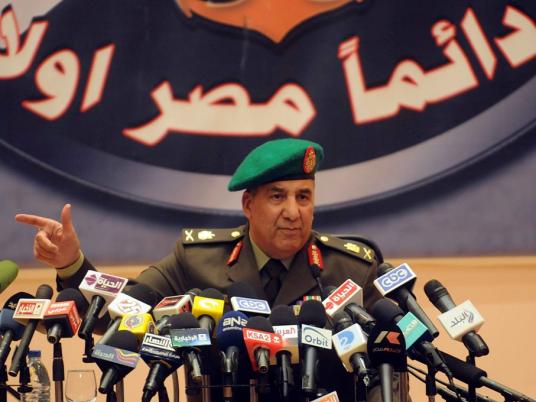 A group of activists seeking to highlight the transgressions of the ruling military council took their campaign — titled "Liars" — to Alexandria on Thursday night, despite pressure from security forces to halt the project.
The campaign is a national movement bringing together several prominent pro-democracy activists in a range of awareness-raising activities ahead of the planned uprising anniversary protests in Tahrir Square on 25 January.
The Alexandria event this evening took the form of a seminar titled "Egypt Under Military Rule," featuring prominent blogger and activist Alaa Abd El Fattah, journalist and blogger Rasha Azab, and campaign coordinator Ahmed Emam.
On display at the event, which was held at Saad Zaghloul Square in Alexandria, was video footage criticizing the performance of the Supreme Council of the Armed Forces (SCAF) since it assumed power last February. The seminar also reviewed activists' experiences with the military prosecution, including personal accounts of violations and the reasons for the blackout on the way security forces treated them.
The event was originally to be held at the Saint Gabriel School in Ibrahimiya neighborhood, also in Alexandria Governorate, but was cancelled due to pressure from security forces.
"We had planned to aunch the campaign at St. Gabriel School in Ibrahimya neighborhood," said Azab. "But after we made an announcement about the event, the school's administration told us that it had been subject to security pressure not to allow it to take place."
Speaking before the event on Thursday night, Azab said that the new location at Saad Zaghloul Square would allow large numbers to attend, adding that the campaign is meant to be based on the street rather than indoors.
The group "No to Military Trials" issued a statement criticizing the activities of the security forces in attempting to close down the "Liars" campaign. The group said that activists will continue their work, despite the "violent" tactics of security forces.