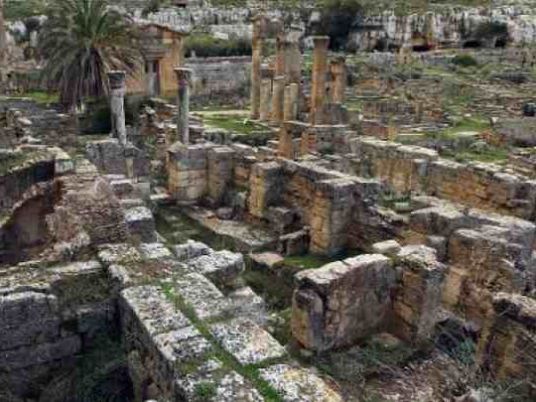 Libyan antiquities officials looked on with horror at Internet video footage that showed Islamist extremists wielding sledgehammers and power tools to grind ancient Iraqi treasures into dust.
They fear the Islamic State group jihadist movement's growing influence means the fate that befell these priceless Assyrian and Akkadian artefacts now awaits their own rich heritage dating back millennia.
Footage of the cultural atrocity showed militants smashing exhibits at the museum in Mosul, Iraq's second city and the main IS stronghold since its capture in a lighting June offensive last year.
The jihadists say the antiquities are anti-Islamic, promote paganism and must therefore be destroyed.
Libya, another country rich in archaeological heritage, has been in turmoil since the 2011 overthrow of longtime dictator Moamer Kadhafi in a NATO-backed uprising.
And IS influence in the North African country is growing.
Iraqi Officials believe around 90 objects were destroyed or damaged in Mosul, most of them originals. The rampage was compared to the Taliban's destruction in 2001 of the famed towering Bamiyan buddhas in Afghanistan.
The militants also ransacked Mosul's library, burning thousands of rare books and manuscripts spanning centuries of human learning.
It was a desecration UNESCO described as "cultural cleansing".
Since then the jihadist movement's tentacles have spread to Libya, where local Islamist groups are pledging allegiance to IS.
– World Heritage sites –
Libya has had two governments and parliaments since the Islamist-backed Fajr Libya (Libya Dawn) coalition seized Tripoli last year. The internationally recognised government and parliament fled to the east.
The country is awash with weapons and heavily armed militias are battling to control its cities and oil wealth.
A senior Libyan official said that since Kadhafi's fall there has already been looting of cultural treasures and damage to ancient sites.
"We fear that the hands of the extremists will extend to our heritage, like in Iraq," antiquities chief Ahmed Hassan told AFP.
Libya has five sites on UNESCO's World Heritage List, and none can be considered safe.
In the west, IS has a presence some 320 kilometres (200 miles) from the fabled ancient city of Leptis Magna, which UNESCO says was "one of the most beautiful cities of the Roman Empire".
In the east, 80 kilometres (50 miles) from the IS stronghold of Derna, is the ancient Greek city of Cyrene, once dubbed the Athens of Africa.
Also vulnerable are the Phoenician trading port of Sabratha and Tadrart Acacus, with its thousands of cave paintings dating back 12,000 years, officials say.
"We are working with foreign partners and other stakeholders to preserve this archaeological heritage," Hassan said.
Mohammed al-Shelmani, head of the archaeological department in Benghazi, said the growing power of IS in Libya has meant officials are now actively working to avert "an Iraqi-type scenario".
– Iconic 'gazelle' nude –
He is determined to help save Libya's cultural heritage, even if this means sending artefacts abroad for safekeeping.
"We have to remove all of our artefacts — document and store them in a safe location as well as asking UNESCO for help in preserving our history," Shelmani said.
According to Libyan archaeology expert Fadl al-Hassi, at least 15 sites have been looted or destroyed since 2011.
Tripoli's iconic colonial-era statue of a nude woman stroking a gazelle disappeared overnight last November, in an act the culture ministry said demonstrated "a total absence of culture on the part of the assailants".
Antiquities department spokesman Fathallah Kammesh detailed dozen of cases of missing antiquities from Kadhafi's home town Sirte, 450 kilometres west of Tripoli, and from others to the east.
In 2011, a collection of nearly 8,000 gold, silver and bronze coins, dating back to Alexander the Great, disappeared from a Benghazi bank.
In Tobruk, just west of Libya's border with Egypt, a former Islamic palace from the Fatimid period was turned into a barn for animals.
Most archaeological sites in Libya are open to the public with no restrictions. Only museums were closed for fear of looting, such as central Tripoli's Al-Saraya Al-Hamra (Red Castle).
Last year UNESCO Director General Irina Bokova called for Libya?s unique cultural heritage to be protected.
"Libyan heritage is the expression of a shared memory of the country, and its respect represents a corner stone for long lasting national reconciliation," she said in a statement.
"I therefore urge all parties, as well as the Libyan population, to commit to and act for its safeguarding."
For now, unarmed civilians mobilised by the antiquities department are the only line of defence standing between looters and IS jihadists and thousands of years of accumulated history.