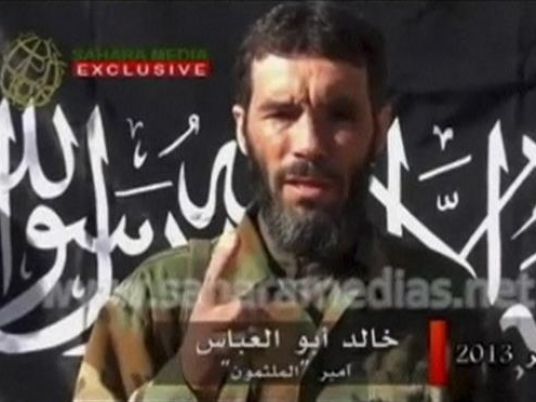 A veteran Islamist militant blamed for a deadly attack on an Algerian gas field and who ran smuggling routes across North Africa has been killed in a US air strike inside Libya, Libya's government said on Sunday.
The recognized government said the strike had killed Mokhtar Belmokhtar, an Algerian militant who became a major figure in insurgencies across North Africa and the Saharan border region and was dubbed "The Uncatchable" by the French military.
The US military confirmed Belmokhtar had been targeted in Saturday night's air strike but did not say if he was killed.
The Pentagon was continuing to assess the results of the operation, spokesman Colonel Steve Warren said in a statement.
Libya's internationally recognized government, which sits in the eastern town of Bayda, said the US strike had killed Belmokhtar at a gathering with other militant leaders, who it did not name.
Libyan officials gave no further details about the area of the strike. But Libyan military sources said an air strike on a farmhouse on Saturday in Ajdabiya city near Benghazi had killed seven members of the Ansar al Sharia militant group who had been meeting there.
Elusive 'gangster-jihadist'
Belmokhtar earned a reputation as one of the most elusive jihadi leaders in the region. He has been reported killed several times, including in 2013 when he was believed to have died in fighting in Mali.
If confirmed, the death of Belmokhtar – who was blamed for orchestrating the 2013 attack on Algeria's In Amenas gas field in which 40 oil workers died, and for several foreign kidnappings – would be a major strike against Al-Qaeda-tied groups in the region.
Once associated with Al-Qaeda in the Islamic Maghreb's Algerian leadership, Belmokhtar broke from the group but remained tied to Al-Qaeda's central leadership even after forming his own group "Those who sign in Blood".
The one-eyed veteran of Afghanistan and Algeria's own 1990s Islamist war had long been a major figure in Saharan smuggling, hostage-taking, arms trafficking and insurgencies, including the conflict in Mali.
Linked to a string of kidnappings of foreigners in North Africa in the past decade, Belmokhtar, who was born in Algeria in 1972, earned a reputation as one of the most important "gangster-jihadists" of the Sahara.
He also gained prominence as a supplier of arms to Islamist groups and as a trafficker of cigarettes, which gained him the nickname "Mister Marlboro" among the local population in the Sahara.
Laser-guided?
Since the fall of Muammar Gaddafi in 2011 and Libya's slide into chaos and fighting between two rival governments, the North African state has seen the rise of Islamist militant groups, which have taken advantage of the turmoil.
Some are allied with Al-Qaeda's leadership, others have local loyalties and some have recently declared allegiance with Islamic State, which has been gaining ground.
Ansar al-Sharia is listed as a terrorist organization by the United States after it was blamed for the 2012 attack on the US consulate compound in Benghazi that led to the death of the American ambassador.
In 2013, US special forces carried out a raid on Tripoli to capture Abu Anas al-Liby – a Libyan suspected in the 1998 bombings of US embassies in Kenya and Tanzania that killed 224 civilians.
European states and Libya's North African neighbors have grown alarmed at Islamic State's expansion beyond its strongholds in Iraq and Syria to a chaotic country just across the Mediterranean sea from mainland Europe and with little control over its porous borders.
One Ajdabiya city resident said Saturday night's air strike had appeared to be much more accurate than ones carried out by local forces. The resident said it appeared to be laser-guided.
"It was a really accurate strike," the witness said.