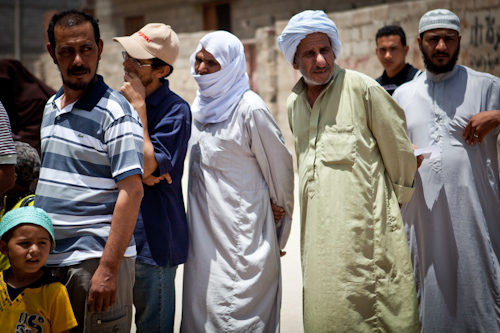 9:00 pm: The polls have closed in Egypt's first presidential election since the ouster of former President Hosni Mubarak.
In a press conference Thursday evening, Presidential Elections Commission head Farouk Sultan said that polling stations will remain open to voters until the last individual who was in line at 9 pm has cast their vote. He said that each of the individual stations will count the votes and announce the total number of votes and the number each candidate received after they are done counting them.
The votes will then be recorded on a stamped and signed copy by the president of the polling station. Copies will be made available to media and campaign representatives, and candidates will have the right to appeal the count. Issuing results of the vote count without waiting for the official announcement of results by the PEC is a violation of the law, he added.
Farouk also denied rumors that candidate Abdel Moneim Abouel Fotouh and Mohamed Morsy had been disqualified from the race for their violations of anti-campaigning rules.
"The disqualifications are over," he said.
PEC officials also confirmed that a meeting will be held tomorrow to incorporate the overseas votes into the national results.
He said the process of counting would be conducted under the "rule of law."
"This procedure shall be conducted with the benefit of the public in mind," he said.
8:00 pm: Ahmed Kamel, a PR adviser to Amr Moussa, says that the latest results from exit polls conducted by the campaign an hour ago are Morsy with 26 percent of votes, Moussa 25.3 percent, Ahmed Shafiq 17.6 percent, Hamdeen Sabbahi 12.2 percent and Abouel Fotouh 10 percent.
He says it is still a close call because only 30 percent of registered voters have voted so far, which is why Moussa and his campaign are urging people to vote.
"There is still one hour and a half remaining; the results can change during that time because 70 percent of people haven't voted yet," he says.
He says their exit polls are conducted by representatives in 13,000 polling stations in all governorates.
7:30 pm: In Rafah, the North Sinai town on the border with Gaza, polling stations are empty and voter turnout is virtually nonexistent. In Sheikh Zuwayed, a city about 20 km away, turnout is also low and, like in nearby Arish, security forces are out in full force.
Abdel Moneim al-Refai, a spokesperson for North Sinai's tribes and a Moussa observer at the Sheikh Zuwayed Girls Preparatory School, says that turnout at the polling station was around 25 percent, but he hopes it goes up to 45 percent.
"People aren't used to democracy and aren't convinced that their vote matters," Refai says. "Also, tribalism and the prevalence of the patriarch's choice discourage many tribe members who are in disagreement from voting."
"We need a leader. An Islamist project can work on the long run but we are in need of fast solutions. For example, there are a lot of foreign threats to Sinai and that's why we need someone who dealt with foreign powers to deal with these threats," he adds.
He claims Moussa, who he knows personally, promised to establish an office for the presidency in Sinai so that he is in direct contact with people. He also promised development projects for Sheikh Zuwayed.
"The radical Islamist groups here have alienated people from Islamist candidates," he says. Sheikh Zuwayed is considered a stronghold for the Sinai-based militant Islamist group Takfir wal Hijra.
7:00 pm: In an attempt to hold a press conference without violating the law, Moussa called journalists to his headquarters for a press conference then asked them to walk with him to a polling station nearby so that it would be technically considered a candidate touring polling stations and not a press conference. Moussa's aim of holding the press conference/tour was to urge people to vote.
"I want to tell everyone to go vote and take part in this democratic process and in building their country. Vote for whoever you want, but participate."
Even though the trick was perceived as a desperate measure from a worried candidate, Moussa answered a question about his chances of winning saying, "100 percent, God willing."
When asked whether he was worried about the early results putting Morsy ahead he answered, "I believe I have a good chance too."
He denounced those who call for protests if certain candidates win, saying, "When the people vote, those who go against the will of the people are wrong."
6:30 pm: The Presidential Elections Commission says representatives of presidential candidates will be allowed to witness the counting of ballots and the announcement of the election results.
The commission also says the ballots will be collected from the polling stations in the presence of campaign representatives, civil society organizations and the media.
Candidates have the right to challenge the results if they see violations in the counting process by Friday at the latest.
Mosaad Abu Saeda, head of the committee supervising the presidential election in Alexandria and Matrouh, told state-run Middle East News Agency that the Carter Foundation praised the well-organized election procedures in Alexandria.
The Carter Foundation, a democracy organization founded by former US President Jimmy Carter, said that its team, including Carter, witnessed the voting on Thursday and found that it was in full compliance with the measures set by the Presidential Elections Commission.
6:00 pm: Head of the Presidential Elections Commission Farouk Sultan said that the turnout for the presidential election so far is over 40 percent.
The voting reached 35 percent in the first day of the elections and is expected to increase with the end of the second and final day of the voting, he said.
There are roughly 51 million Egyptians in the country who are registered to vote.
In Monib, a polling station head told Egypt Independent that a third of names registered to vote there had actually showed up. Officials at other stations said that they'd seen about 30 or 40 percent.
5:30 pm: The Supreme Guide of the Muslim Brotherhood, Mohamed Badie, cast his vote in the presidential elections at a polling station located in a preparatory school for females in Beni Suef governorate. He thanked the police and the armed forces for keeping security during the elections in a briefing. He also thanked the Egyptian judiciary for supervising the elections fairly and transparently.
A judge at a polling station in Old Cairo says that turnout is much lower today compared to yesterday, though he could not give exact figures.
"There is no real difference inside the polling station because before [under the old regime] most of the violations were outside of the polling station. Internally, we have the same amount of control but before the National Democratic Party sent people to areas that weren't under their control to work things out in their favor. The main problem I've found here, I haven't seen any systematic violations, but I've seen a lot of women who walk in having no clue who they are going to vote for. My only concern is whether or not the majority of the votes are going to be informed votes."
Two supporters of Ahmed Shafiq were injured after clashes broke out on Thursday afternoon with supporters of the Brotherhood's candidate Mohamed Morsy in Zagazig. The clashes began after Morsy supporters began campaigning outside the Herba Rezna Secondary School, which led to a verbal altercation that escalated into a battle with sticks and swords, wounding two men. Military forces set up a security cordon around the polling station and prevented supporters of both candidates from entering. The incident was reported to the authorities.

Ahmed Ismail, a supporter of Abdel Moneim Abouel Fotouh, filed a complaint on Thursday at the Sinourus Police Station in Fayoum Governorate accusing a member of the Morsy campaign of beating him, resulting in "a head injury and a broken jaw." The injured man said he and his wife headed to the polling station to cast their votes at the Shahid School when the man attempted to influence them to vote for Morsy. When he refused, a number of Morsy supporters attacked him and broke his jaw. He was taken to the Sinourus Central Hospital for treatment.
4:00 pm: A Morsy supporter was distributing meat and sugar to voters in Qena Governorate, according to election monitors with the Hurra Naziha Coalition.
In a statement issued on Thursday, the coalition says its observers saw Morsy supporter Abu Bakr al-Qady distributing meat, sugar, beans, lentils and oil to voters in the Khuzam village in Qena.
In Marsa Matrouh, a Shafiq supporter was arrested and accused of distributing money to voters.
The Hurra Naziha Coalition is an independent committee of 70 associations that is monitoring polling stations nationwide.

Residents of two villages in Assiut continue their boycott of the election on its second day to protest shortages of bread and butane cylinders.
Attempts by Mostafa Tareq, the head of Qosseya City Council, have failed to persuade the residents of the villages of Bani Edris and Monshaal Soghra in the township of Qosseya to end their boycott.
Some residents raise banners reading, "We are boycotting the election for a better life."
3:30 pm: Interior Minister Mohamed Ibrahim says his ministry has received a tip that some forces are planning to riot outside polling stations in order to spoil the electoral process and intimidate people from voting.
After voting Thursday at a kindergarten school in Giza, Ibrahim says that the police are ready to confront all attempts to hinder the electoral process.
Any such attempts, he says, will be dealt with using "an iron hand."
Ibrahim says the ministry also has contingency plans to confront possible reactions to the election results. Some political groups have threatened to take to the streets if a Mubarak regime member wins either the preliminary or runoff election round.
The Interior Ministry is responsible for securing the voting and counting process, he said.
In the Upper Egyptian town of Beni Suef, members of former President Hosni Mubarak's now-dissolved National Democratic Party gathered to rally in support for Ahmed Shafiq.
The liberal Wafd Party reported on its website that former NDP members prevented voters not supporting Shafiq from entering polling stations in the towns of Fashn, Beni Suef, Nasser and Wasty, leading to conflicts among voters.
In Beni Suef's Terment al-Sharqiya village, Shafiq campaigners and former city council members prevented supporters of religious parties from entering the polling station by lining up and creating a physical barrier.
3:00 pm: Former Arab League Secretary General Amr Moussa's campaigners announced on their official Twitter account that Moussa is waiting for former Prime Minister Ahmed Shafiq to pull out of the presidential race for the sake of boosting Moussa's chances. In response, the official Shafiq campaign Twitter account said: "It seems that Mr. Amr Moussa is suffering from electoral hallucinations."
Observers say Moussa, also a former foreign minister, and Shafiq are targeting the same portion of Egypt's electorate. Their constituency consists primarily of Egyptians who prefer a former statesman, regardless of his ties with the Mubarak regime, hoping he can bring stability.
2:30 pm: Turnout appears low in Arish, the capital of North Sinai Governorate. Many voters say they are supporting Shafiq and Moussa, both former regime figures campaigning on security platforms, because the area has seen much tribal fighting and attacks on security forces in the past year. Some voters hope that one of these two candidates will be able to restore security and stability.
Army and police are making a strong showing in Arish. At one polling station, security forces outnumbered voters as helicopters roamed the sky.
"Turnout has not been strong yet. I would say it's not more than 20 percent. It's mostly old people," says Qotb al-Shalakany, a judge at a polling station at Yasser Primary School in Arish. "Things have been very calm and everyone is committed to making sure the process is smooth, including candidates' representatives and voters. At the beginning we were afraid to come and work here because of the violence that has marred the area recently. But we're happy it's all under control."
Ahmad Mohamed Sabry, who is representing Shafiq at the same polling station, sits in a corner of the station alongside other candidate representatives.
"Everything has been normal so far. There are a lot of elderly who come to cast their votes and many of them are illiterate," Saby says. "But as you saw, the judge is the only person who helps them out by taking them to the side, asking them who they want to vote for and showing them on the list where their candidate is. The voters are the ones who cast their ballot even if they don't read and write."
A very old woman enters the polling station and is helped by the judge to the ballots. The judge asks her, "Who do you want to give your vote to, mother?"
"Shafiq," she says. And then he shows her and she casts her ballot.
Mostafa al-Atrash, 35, lives in central Sinai, a remote, rural area, but is registered to vote in Arish. Before the revolution, he says, many Bedouin tribesmen from central Sinai would dread coming to the city because of tensions with the security forces, but he feels differently now.
"Now we confidently come to Arish to vote and even go to Cairo. Before, people used to be arbitrarily arrested," he says. Atrash believes that Moussa has the most to offer Sinai, in part because he is not too tough on Israel, which Atrash believes will keep the border area where he lives more secure. "We'll pay the price here if any candidate decides to antagonize Israel," he says.
Conversely, Hamed Mohamed Awad, 70, says he is voting for Moussa but would also be happy with Shafiq because "they are the only ones who can protect Sinai from Israel."
Ahmad Moussa, 28, interrupts and says, "These are the choices of the elderly." He will vote for Abdel Moneim Abouel Fotouh.
"Will Abouel Fotouh bring you gas and fuel for your motorbike everyday?" Awad asks, referring to a rampant shortages in the area.
"No feloul can solve my problems," Moussa says.
2:00 pm: The Presidential Elections Commission has extended voting hours until 9 pm to allow as many people as possible to cast their ballots, according to Al-Masry Al-Youm.
An official source from the commission says ballot counting will begin half an hour after the vote ends. Vote counting will be conducted at the polling stations in the presence of candidates' representatives, the media and NGOs.
In Boulaq Abul Ela, the army presence is heavy at the Industrial Technical Institute polling station on Sahafa Street. The army is helping people find their names and voting numbers on a white sheet outside the station, and is doing the same inside the voting room. At one point, army officers insist on watching over an Egypt Independent reporter's interviews with voters.
Most people are reluctant to say who they voted for, with many saying "That's a secret" or "It's between me and God."
Ahmed Adham, 27, is one of the few comfortable enough to say he voted for Hamdeen Sabbahi.
"He's a just man," Adham says of Sabbahi. "I want a president that will feel for the army and the poor man that can't find enough food to eat."
Hamdeen won't be against the army, he says. "Who is the army? He's my brother, your brother, your cousin. But the sects that have emerged — the Brotherhood, Salafis — where were they during Mubarak's days? I never heard of them before. We are Muslims, not Brotherhood [members] or Salafis."
Mustafa Eid, 42, says: "I want the military to keep a hold of the country."
He adds: "We need someone to get us out of the situation we're in. I dont know the Islamists; they are not honest. We want someone from the country, who knows the country — not just here inside, but also outside."
But he won't say who he voted for.