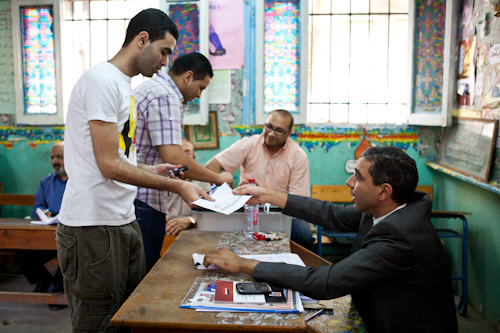 Egyptians are voting today for the first president after the 25 January uprising. More than 50 million citizens across Egypt's 27 governorates are eligible to vote, choosing from 11 candidates. The contest is considered wide open. Egypt Independent will be bringing you live updates throughout the day.
9:00 pm: Polls are closing. Those already in line at 9 pm will be allowed to cast their votes.
8:30 pm: Abu Bakr al-Guindi, head of the Central Agency for Public Mobilization and Statistics (CAPMAS), estimated that the projected turnout of the presidential election will be roughly 60 percent, based on voter behavior on Wednesday.
Guindi also implored citizens to accept the results of the election. He said the Presidential Elections Commission has taken measures to prevent fraud.
7:30 pm: Numbers of voters are increasing in different polling stations across the nation.
In Heliopolis and Old Cairo, the number of voters queuing outside polling stations is two or three times that witnessed earlier in the day. In Sayeda Zeinab, the line has doubled.
Queues are also visibly longer in Suez's polling stations.
In Minya, turnout has increased in Malawi, a town outside the city center, during the early evening hours. Voters who wanted to miss the morning heat are forming long queues outside of the schools for the first time today. Voters are only moderately hopeful.
"I was more excited the last time [parliamentary elections] because I thought that things would change; nothing did, but I still have hope in God. I choose the moderate candidate who will put us on the right path," Samia Selim, a retired employee, said.
Similarly, turnout has been increasing in Mansoura. Ramy al-Said, a medical student, said, "Most voters are employed; they finish work by 2pm, take a nap, and then go to the polling station to vote."
"I couldn't go in the morning because of the hot weather," Ahmed Hassan, a construction worker in Mansoura, said.
According to the state-run Middle East News Agency, Prime Minister Kamal al-Ganzouri, declared Thursday a national holiday for state employees, in what might be a move to encourage more voters to cast their ballots given the relatively low turnout on Wednesday morning. CAPMAS reports that there are some 5 million government employees, including municipality employees. The National Democratic Party traditionally mobilized government employees to support the ruling party at the polls during the Mubarak era.
Former Prime Minister and presidential hopeful Ahmed Shafiq was pelted with shoes after casting his vote at a polling station in New Cairo.
Anti-Shafiq protesters had gathered in front of the station, prompting the army and the police to briefly close it. But as the candidate exited the building, demonstrators threw their shoes at him.
"Difference of opinion should not turn into insult," Shafiq told Al-Masry Al-Youm, commenting on the incident.
7:00 pm: The Muslim Brotherhood's Freedom and Justice Party held a press conference at the party's headquarters in downtown Cairo.
Osama al-Helw, the legal advisor to Brotherhood candidate Mohamed Morsy's campaign, announced that the campaign has filed two lawsuits. The first is against privately-funded newspaper Al-Watan, which published an article today alleging that Muslim Brotherhood leader Khairat al-Shater gathered LE12 million to hand out as bribes to voters. The second case is against telecom company Mobinil for a message it sent to customers today alleging that former Brotherhood member and competing candidate Abdel Moneim Abouel Fotouh is beating Morsy among Egyptian voters abroad.
Amr al-Darrag, a founding member of the FJP and head of the party in Giza, dismissed allegations that Morsy's campaign violated the law by campaigning outside of polling stations in contravention to a legally mandate campaign silence period.
6:30 pm: Voting hours have been extended across the country until 9 pm. State-run Al-Ahram newspaper quoted Presidential Elections Commission Secretary General Hatem Bagato as saying that the extension was made to accommodate an evening surge in voters.
Brief clashes and speculation about results are emerging as first day of voting winds down.
A fight with bladed weapons broke out between supporters of Abouel Fotouh and former Foreign Minister Amr Moussa at the polling station at Mona al-Amira School, Hawamdiyah, Giza. Voting halted briefly until voters could end the clashes. Police and army forces, standing by, did not intervene, Al-Masry Al-Youm reported.
The fight reportedly began when supporters of Moussa made "provocative statements" to supporters of Abouel Fotouh.
According to a preliminary Moussa campaign exit poll, Morsy is in the lead near the end of the first day, while Moussa is in second, Abouel Fotouh is third, Nasserist candidate Hamdeen Sabbahi is fourth, and Shafiq is fifth. A campaign official said the results were based on a random questioning of voters exiting polling stations.
The poll's results have been hailed as highly speculative.
"These results could be misleading," Akram Ismail, a political analyst, says. "And these numbers could have been pushed by the Moussa campaign to convince undecided voters who haven't been to the polls yet to vote for him."
In Imbaba, some impromptu exit polling conducted by Egypt Independent at the Gehad School found a mixed bag of opinions.
Ahmed al-Sayed voted for Abouel Fotouh because, he said, he has an Islamic background and is the most revolutionary of the Islamic candidates.
If there is a run-off, however, between Morsy and Moussa, he said he'll vote for Morsy.
Mahmoud Ali, another voter, chose Sabbahi because he "feels for the people." He voted for the Muslim Brotherhood in the parliamentary elections, but has been unhappy with their performance.
Tareq Khamis, meanwhile, voted for Ahmed Shafiq because "he would be able to restore security, and quickly." Khamis said that the combination of Shafiq and the army is what will turn the country around.
Ahmed Mohamed, who cast a ballot for Moussa, said he did so because the country needs a strong and experienced leader. He says that Egypt is a "nest, around which five or six eagles are circling," a reference to what he says are foreign plots against Egypt.
Meanwhile, judges and staff members at a number of polling stations in various governorates have been accused of violating electoral laws by closing during prayer times or for lunch breaks, the Egyptian human rights organization One World Foundation for Development and Civil Society Care reported.

The foundation said there were no Egyptian laws that allow the closure of polling stations or the suspension of their work for any reason, and that according to law, anyone obstructing the electoral process should be brought to justice.
In one of the first estimations of voter turnout, Suez Security Director Adel Refaat says that the voter turnout as of mid-afternoon on Wednesday was 15 percent of the governorate's population.
Refaat says in a statement that the directorate received a complaint from the Sabbahi campaign, saying they had been denied entry to the polling stations.
There are roughly 381,783 voters in Suez, distributed among 149 polling stations.
5:30 pm: In Suez, a microbus sponsored by Abouel Fotouh's campaign carried supporters to a polling station in the Arabaeen neighborhood. Army officers ripped posters from the bus as it approached the polling station. In that city, poll watchers predict that turnout is about 15 percent.
In the upper class Cairo neighborhood of Heliopolis, voters are happy with the process so far. "I predicted the same turnout as parliamentary elections and the same sort of charged atmosphere from voters, but today feels like a normal day," said Mohamed Karam, a 33-year-old investment banker.
Asmaa Mahmoud, a 60-year-old retired accountant waiting to vote at the same polling station, said, "To be honest, I still haven't chosen who I'm voting for. I voted for the Muslim Brotherhood in the parliamentary elections, but after watching their performance and the laws that they are proposing, I want anyone but them," she said, dismissing both Morsy and Abouel Fotouh.
In Zamalek, an upper class neighborhood in central Cairo, support for Morsy and Abouel Fotouh ran high, but Shafiq was also popular, with many voters saying they wanted a secular candidate.
One woman, who said she has been alive since before 1952 when the modern Egyptian republic was formed, voted for Shafiq.
4:30 pm: A supervising judge at the polling station in Sakhr Eddin Khaled School in Daqahliya Governorate has decided to suspend polls for four hours after discovering 35 ballots marked in advance for Morsy, Al-Masry Al-Youm reported.
The judge filed a report on the incident and faxed it to the Presidential Elections Commission to rule on. Morsy's delegates tried to convince the judge that the ballots discovered were a result of a misprint, according to Al-Masry Al-Youm.
Meanwhile, PEC chairman Farouq Sultan has said in a press conference that the commission would not hesitate to adopt legal measures against violators.
"The commission has noticed the continuation of breaches by candidates and their backers, with some violating the campaign silence period and others trying to influence voters," he said.
Sultan noted that the commission had been decisive in that respect and already referred three violations to the Public Prosecutor, and illustrated that those breaches included press conferences made by Shafiq, Morsy, and Abouel Fotouh, which the commission considers a form of campaigning.
3:30 pm: Throughout the country, Shafiq remains the candidate of choice for those with security concerns, particularly among the Christian minority.
Ivon Moros, 70, a Copt and former Central Bank general manager, cast her ballot for Shafiq at the Talaat Harb School on Mohamed Basiouny Street downtown.
"Through his words we felt that he is close to us," she says.
Her daughter Nevine, 39, a former secretary at Orascom, is also a Shafiq supporter.
"Ahmed Shafiq is decisive, his lines are clear," she says. "Shafiq respects the church and he's against religion entering politics, which for us is important — unlike Moussa, who I don't see as being decisive enough. In fact, I really wanted [Mohamed] ElBaradei, in 2009."
At Abu Qurqas in Minya, a hot spot for sectarian violence, many Christians decided that Shafiq is the best choice to ensure their security.
"Now we put our hope in God and Ahmed Shafiq," says one Christian woman who declined to give her name. "He's a known and fair person and this is what people care about regardless of religion."
According to a group of campaigners for all the main candidates gathered together outside the polling station, the Christian community in Abu Qurqas is almost unanimously voting for Shafiq, with a smaller percentage to Moussa and Sabbahi.
"The spirit of the revolution hasn't reached this place, and the people here are sick of the Muslim Brotherhood," says Islam Abu Bakr, a campaigner for Abouel Fotouh, explaining why his candidate has such a small following in the area.
Khalil Ibrahim, an Education Ministry employee, also says he voted for Shafiq.
"I chose based on Egypt's interest, we want someone who will treat people right and who is a statesman. After the officials did all of this, now it's up to the people to make the right choice," he says.
While standing in a men's line for a poll in Abbasseya, the location of violent clashes in recent months, some voters say their main concern is a candidate's ability to maintain security, not his ties to the old regime.
"As Abbasseya people, one of the things we need is security and calm," physician Nader Habib says. "I can't say who I am voting for, but I will say that I am against stereotyping people as 'feloul' [regime remnants] just because they were involved in the last government. Everyone was involved in the last government. We should look at what people can do and what they do. If they don't deliver in a couple of years we will have the ability to get rid of them."
Meanwhile, state television reports that according to the health minister 21 voters, judges and security personnel have suffered from dehydration or other injuries related to crowding. No deaths related to election violence have so far been reported.
Ahmed al-Ansary, the deputy head of the Egyptian Ambulance Authority, says Judge Ahmed Shehata in Sharqiya fractured his foot.
3:00 pm: While voters around the country report various motivations for their choices, many are saying they have one main concern: keeping Shafiq and Moussa, both ministers who served under the Mubarak regime, out of office.
"I voted for Hamdeen," says Ramy Salah, a 20-year-old voter in Haram, referring to Sabbahi. "There is no way I am going to vote for feloul and, in my mind, the Freedom and Justice Party, who are also murderers."
At another polling station in Haram in Giza, Lotfy al-Sayed, 17, holds a sign that reads "Feloul murdered Egypt."
"I'm here to remind people that Shafiq was in office when our youth were being murdered and that Moussa said he would have voted for Mubarak. My friend was shot in the gut during the revolution. I'm here to remind people to not let our youth die in vain," Sayed says.
While holding his sign, Lotfy says he was told to leave by an angry voter and army soldiers.
"But the other people in line protected me and told the soldiers that this was my right, so the soldiers let me stay," he says.
At Qayt Bey Preparatory School in downtown Alexandria, an elderly couple from the informal area Tabya say they are supporting Abouel Fotouh because he is "a clean and honest man who will attempt to bring real change."
Hekmat Fahim, another Tabya resident, says, "How can Shafiq and Moussa have the guts to run when we know how much they corrupted this country while staying loyal to the regime that they were apart of?"
"Where is the social justice? I can guarantee that if they win, their fates will be like [Mubarak]; we will have another revolution," Fahim says.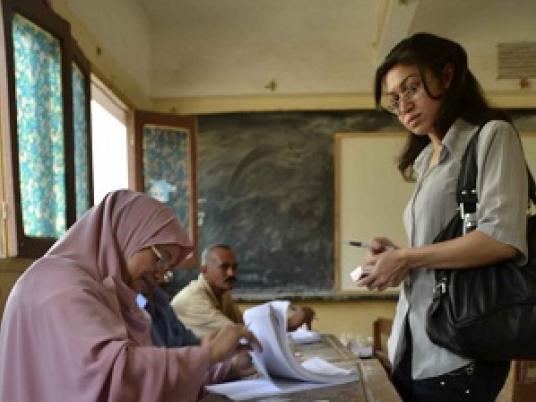 2:30 pm: Violations across candidates' campaigns have been reported.
The Presidential Elections Commission says it has received a complaint that Shafiq held a press conference outside a polling station in violation of campaign regulations and the period of election silence that took effect Monday. The commission says it would examine the complaint and refer it to the Public Prosecution if it finds evidence to uphold the accusations.
Al-Masry Al-Youm reports that voters in the Kafr al-Sheikh area have received LE150 and a meal in return for voting for Moussa. A witness says Moussa's campaigners have asked some voters to monitor the process in Messir village throughout the day.
In Bahary in downtown Alexandria, two veiled women, one wearing a niqab, were stopping people by Qait Bay Preparatory School to tell them they should vote for Morsy. A shop owner from the area who says he is voting for Sabbahi yelled at and argued with them.
Buses drove by polling stations, yelling at bystanders to vote for Moussa. Inside the polling station, a policeman confirmed that security had made members of the Freedom and Justice Party move away from the polling station because they were attempting to influence voters.
In Ezbet al-Mattar area, the Muslim Brotherhood had bused voters to their respective polling stations. Fast-food meals were also given out, as witnessed by Egypt Independent. Abouel Fotouh campaigners in Alexandria have been handing out fliers with his name, as well as cards on which people can fill in their names and ID numbers so that the campaigners can help them identify their polling stations. The same was witnessed in Giza.
An Abouel Fotouh campaigner in Baharmos town in Giza, Emad Eddin Ali, told Egypt Independent that supporters of Morsy had been telling female voters that they would "go to heaven" if they cast their ballots for the Islamist candidate. He was interrupted by a man on a motorbike who called him a liar.
Four official complaints were filed against Abouel Fotouh, Shafiq, Moussa, Morsy and Sabbahi campaigners.
2:00 pm: A 30-year-old Navy captain died in a traffic accident Wednesday morning while heading to Rashid City to secure the polling stations there. He was taken to the Mabarat al-Asafera Hospital at the Montazah Police Station with a suspected skull fracture and internal bleeding. He later died at the hospital.
The captain's body was transferred to the Ras al-Teen Naval Hospital morgue.
1:00 pm: Many voters interviewed by Egypt Independent in and outside the capital say they support either Morsy or Moussa.
Male and female lines are long at Ibrahimiya School in the affluent district of Garden City. An army lieutenant came in to check on the polling booths but left within 30 seconds of going in. Heba Ahmed Attiya, 37, a translator who lives in Maadi, came with her aunt and is voting for Moussa.
"Voting today is the best thing to have happened since the revolution — that elections have actually happened," she says.
She says she decided who to vote for through an exclusion process, looking at who she doesn't want and who remains.
"I didn't look at platforms because anyone can make a perfect platform but not execute it. I looked at the CV and looked at who has the most successful experience so far," she says.
Some voters waiting in line say they are not sure who to vote for. Ghada Hashem, who teaches in the medical faculty at Cairo University, says she has no idea and will make her choice on the spot when she receives her ballot.
"No one has shown me they have the resources to achieve social justice," Hashem says.
In the Haram area in Giza at Naguib Mahfouz Elementary School, Sanaa Ibrahim, 36, says that she plans to vote for Morsy.
"I believe he is a good man, and he is backed by a strong party. God knows with everything that's going on, we need a president who has strong support," Ibrahim says.
But there is no agreement over Morsy in the area. Amany Hassan, 26, says she won't vote for Morsy.
"I am not against Islam, which is why I won't vote for Morsy. Anyone but him — I'd vote for Obama before Morsy," Hassan says.
The Morsy-Moussa binary carries on outside of Cairo. In Minya's Abu Hilal village, where turnout appeared to be low at many polls, Morsy's supporters deployed with laptops. Ahmed Moatamed, the representative of Islamist candidate Mohamed Selim al-Awa in the village, says the military police dispersed Morsy campaigners in front of a polling station when he complained. Some voters complain they couldn't cast their ballots because their names were missing from voter lists, even though they had found their names listed online.
In Suez, low turnout also seems to prevail. Egypt Independent's reporter toured various polling stations where there were hardly any lines. At Salah Nessim School in Etaqa neighborhood, Mohamed Saeed, who says he voted for Moussa, says he doesn't think the election will solve the country's problems or achieve stability. But he says he hopes Moussa is strong enough to do so. Meanwhile, in the same area, campaigners for Morsy and Sabbahi stand outside the polling stations trying to sway voters.
12:30 pm: In Fatma Anan School in the Fifth Settlement, New Cairo, campaigners for Morsy block Moussa from entering the polling station because of the large number of local and foreign reporters accompanying him.
Scuffles break out between groups of campaigners and photographers, and military police divided them.
Mahdi Akef, former Brotherhood supreme guide, voted in one of the polling stations in the Fifth Settlement neighborhood. Al-Masry Al-Youm reports that Akef, 84, didn't manage to stand in line with other voters and sat on a chair, waiting for his turn.
Akef said last April that he prayed to God that the Brotherhood would not win the presidential election, adding that the presidency would be a huge burden for the Brotherhood if their candidate wins.
In the rural area of Minya, turnout remains low. Judges crack down on any campaigning in or around the polling station, and an employee with a badge reading "queue organizer" allows three people in at a time. Most waiting in line say they are voting for either Morsy or former Brotherhood member Abdel Moneim Abouel Fotouh.
In Mahalla, voters fill the polling stations. Egypt Independent witnessed few violations, though a few Abouel Fotouh campaigners were making rounds in the area.
Ayman Kamal, 20, an engineering student voting in Sayeda Zeinab neighborhood in Cairo, is proud to be casting his first presidential ballot.
"For the first time everyone has a voice and opinion about who they want to vote for," he says. "I voted for Hamdeen [Sabbahi] because he expresses the views of all Egyptians, not just a particular group, including the poor, workers and farmers."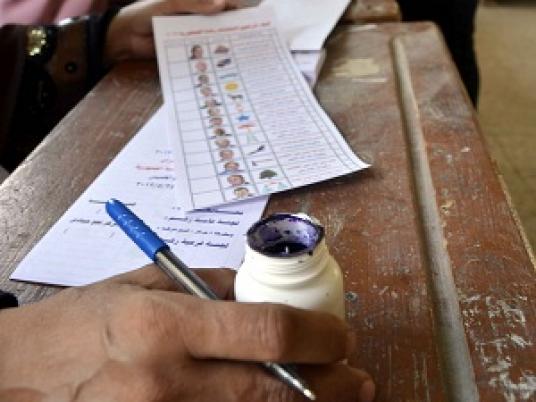 11:30 am: Polling stations in Mansoura, the capital of Daqahlia Governorate, are crowded, with some voters growing frustrated by long waits.
Still, many voters in Mansoura are still unsure which candidate they will vote for and are asking other voters nearby for advice.
In the Cairo neighborhood of Heliopolis, a female voter in Kawekeb School complains about not being sure who to vote for. She says she is interested in voting for Morsy but also heard that Abouel Fotouh is a good option.
"I guess I will go in and decide on the spot," she says.
Confusion and uncertainty are on display, not just about which candidate is the best choice. In the Sayeda Zeinab neighborhood in Cairo, Mohy Eddin Abdel Aziz Gad, 71, says the Presidential Elections Commission's website gave him the wrong voter ID number and polling station information, which delayed his vote.
11:00 am: Candidates have started casting their ballots.
Abouel Fotouh cast his vote at Ibn al-Nafees Preparatory School in Nasr City, Reuters reports.
Moussa arrived at the polling station at Fatma Anan School in the Fifth Settlement, New Cairo, at 8:30 am, according to Al-Masry Al-Youm. He waited in line for an hour and a half to vote. Moussa said he would accept whatever outcome the election brings, describing the polls as an important lesson in democracy.
"Egyptians should have good judgment in selecting the person who would shape Egypt's future over the next period," Moussa said. "We are up to the challenge."
In the same line, four young voters hoist posters of protesters killed in the Maspero violence when the military forcibly dispersed a mostly Coptic march next to the state TV building last October, and the clashes near the Interior Ministry last November between Central Security Forces and demonstrators, and other incidents of violence that marred Egypt in the last months.
"Those people sacrificed their lives to elect a candidate who represents the revolution rather than one who is affiliated with the old regime," one voter says, warning the rest against electing Moussa.
Similarly, leftist lawyer Khaled Ali was photographed by El Badil news website standing in line to cast his vote.
Al-Masry Al-Youm also reports that People's Assembly Speaker and Muslim Brotherhood leader Saad al-Katatny arrived at a polling station in 6th of October City to cast his ballot. He entered the polling station quickly but later was asked by one of the voters to go back to the end of the line. Katatny agreed to go back to the applause of other voters. He told reporters while waiting that the winner of this election — whether he is the Brotherhood's candidate or any other candidate — would be a choice that reflects the will of the people and should be respected.
Meanwhile, voters continue to flock to polling stations around Cairo.
In Sayeda Zeinab, hundreds of people show up to vote. Mohamed Selim Mohamed, 22, a business graduate from Cairo University who wants to work as a stock broker but is now working in a restaurant, is voting for Shafiq, who served as prime minister under Hosni Mubarak's regime.
"I heard many opinions and debates before making my decision two days ago about who to vote for. My conscience is now clear and settled with the choice I've made," he said. "The most important thing for the coming period is security. Security will come through the law. The police will come under the law and deal with citizens in a legal way. After this tourism has to come back to Egypt and then education needs to improve so that Egypt will become like Turkey, Malaysia and Singapore."
Mohamed adds that Shafiq's history distinguished him and, though some say he was implicated in the infamous Battle of Camel, if the allegations are true he would be punished by law.
"I doubt the law will be above him, given that Mubarak is in prison," Mohamed says.
In Dar al-Salaam, at a school compound, a female observer lets two campaigners help people find their polling stations.
"As long as you're not from the Brotherhood or feloul [remnants of the old regime]," she says.
In Shubra at the Tawfikeya Secondary School, a line of male voters waits patiently in the shade to cast their ballots. There is a large security presence of military troops and military police as well as regular police.
Tarek Emad, a voter in the line, says, "It's an important day — the first time I'm voting because for once we don't know who will win. What I hope is that there are no problems caused by supporters of failed candidates and that they accept the result. I will vote for Amr Moussa because I feel he is the most suited for the upcoming period … The important thing is to come out of this current phase to safety," he said.
Outside of Cairo, early turnout ranges from low to moderate.
In villages surrounding the Upper Egyptian city of Sohag, where more than 2 million citizens are eligible to vote, low turnout is being reported since the polls opened at 8 am. The urban centers, meanwhile, are seeing longer lines of voters. In a polling station in one of the villages surrounding Sohag, the lack of phosphoric ink and locks for the ballot boxes prompted the judge in charge to keep the station closed.
In the coastal Red Sea Governorate, home to more than 200,000 voters, moderate turnout is being reported so far. Joint police and army forces are securing the vote.
10:30 am: Waits appear to be getting longer at some polling stations.
At Al-Taliaa Preparatory Boys School in Sayeda Zeinab, hundreds of voters line up to enter. A few voters complain they were assigned the wrong number, but overall the process seems to be going smoothly.
In Dar al-Salaam, some voters complain about the long wait.
"The only problem is that they've rounded up all the old people and given them the same station to vote in," says Maghoub Ali, 64.
Voters seem divided between Moussa and Abouel Fotouh, and were not hesitant to discuss the candidates they have chosen.
"We don't want to be experimenting with the presidency," says Ghada Mohamed, a 43-year-old teacher voting in Basateen, a neighborhood in southern Cairo. "Moussa has his flaws but he is the lesser of evils."
10:00 am: Turnout so far appears to be low.
Polling stations in Suez are largely empty. There is a very short line outside of the Sayeda Aisha School in the central Arbaeen district. At a polling station at the Ahmed Oraby Elementary School in Cairo's Dar al-Salaam neighborhood, Moez Mohamed Nour, an election observer, says, "So far things have gone smoothly, but I'm disappointed with the low turnout. But I am expecting more people in the afternoon and tomorrow, since it's Thursday, which a lot of people have off."
Polling stations in Giza and Heliopolis are free of long lines, according to Egypt Independent correspondents.
There have been some minor irregularities. Ahmed Abul Amayem, the judge supervising the polling station at Sayeda Aisha School in Suez, says that half of the employees who were supposed to help run the polls have not yet arrived. He opened the polling station with the employees available to him. At the Ali Mubarak School in the Cairo neighborhood of Marg, voting began more than 15 minutes late after the Mohamed Morsy campaign sent 11 observers to the polling station instead of the prescribed two.
Local watchdog Activists without Borders says in a statement that some of its activists reported members of the Muslim Brotherhood trying to influence voters outside polling stations to vote for Mohamed Morsy.
9:30 am: Egypt Independent's correspondent in Suez reports that most polling stations in that city are still empty.
State-run news agency MENA reports that one female voter has filed a complaint against an employee at a polling station in Nasr City. She alleges the employee told her she should vote for Morsy. The judges in the polling station immediately dismissed the employee, MENA reports.
8:00 am: Polling stations, which are usually held in schools and are divided according to gender, officially open. Lines are already forming.