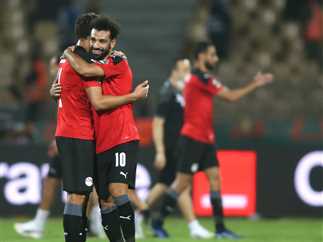 The official page of the Liverpool team on Facebook published a number of posts related to Salah, and the beginning was when the account wrote a post entitled "The King is Back", in the first training image of the Egyptian star after the match between Egypt and Senegal.
Liverpool honored Salah, given his career with the English team, and put a wonderful painting for him inside Anfield, Thursday, March 31. The official Facebook page of Liverpool commented on Salah's photos saying: "A very beautiful painting, a great tribute to King Mohamed Salah at Anfield Road."
Liverpool published a lengthy video of Salah's goals against the Watford F.C. team, before the upcoming match between Liverpool and Watford scheduled on Saturday at 1:30 pm Cairo time in the 31st week of the English Premier League.
Egypt's national football team and Liverpool star Mohamed Salah is currently in a state of great sadness, after the national team failed to qualify for the World Cup 2022, and lost to Senegal 3:1 from the penalty kicks, on Tuesday, in Dakar.
After the match, Salah said in the locker rooms: "I told the players before the return match that I am proud to play with them and they are some of the realest men I have played with."
"I am proud to play with you and it was an honor for me, and no one can interfere with what happened because it was a penalty kick," he added.
Salah concluded his message: "There is not much I can say, but it was an honor for me to play with you whether I will be there later or not."
Egyptian Sports Minister Ashraf Sobhy interrupted Salah saying: "You will be there," which many interpreted it that Salah hinted at international retirement.
The Egyptian team failed to qualify for the World Cup after losing to Senegal 3-1 on penalties, in the match that was held, Tuesday, at Abdullah Wade Stadium, in the second leg of the World Cup qualifiers.
The original and extra time of the match ended with Senegal leading by a clean goal, scored by Boulaye Dia, in the third minute of the match.
Salah is reportedly close to extending his contract with Liverpool after reportedly backtracking on part of his financial demands.
This appears to settle the tug-of-war between Salah and Liverpool Board of Directors about Salah's new salary after the Egyptian star demanded 500,000 pounds per week in order to sign a new contract at Anfield.
News reports on Monday indicated that Salah will eventually give up his financial demands to renew his contract with Liverpool for the longest period.
Salah is the top scorer in the English Premier League for the current season, with 19 goals, far ahead of his closest rivals, Sadio Mane and Diogo Jota, the Reds' stars, with 12 goals.