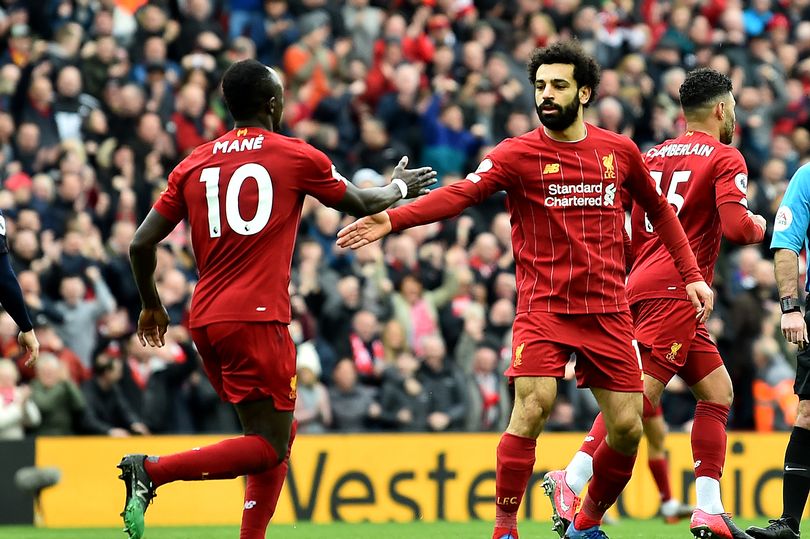 Egyptian football icon and Liverpool winger Mohamed Salah said on Sunday that his team are working towards winning the English Premier League 2019/2020, following the Reds' victory over Bournemouth 2-1 on Saturday.
Salah hailed his teammates' performance after going 1-0 down, adding, "We need to keep going for the next three games. It's important the Reds return to victories." His statements come after Liverpool lost its winning streak with a humbling defeat against Watford in the 28th round.
He added that the match against Atletico Madrid should be an important game.
UK newspapers celebrated on Sunday Salah's goal against the Cherries in his 100th Premier League appearance.
Daily Mail hailed Salah's performance in the Premier League following his transfer from Roma to Liverpool in 2017, calling the lack of acclaim for Salah noticeable when compared to the fans that Fernando Torres and Luis Suarez once drew.
No player has scored more league goals in their first 100 top flight league appearances as Salah, with former Liverpool stars Kenny Dalglish having scored 50 goals and Ian Rush having made 61.
Salah also became the first Liverpool player to score 20 goals for the club in three consecutive seasons since England legend Michael Owen at the turn of the 2000s, UK newspaper Mirror pointed out. The Egyptian footballer beat Luis Suarez and Fernando Torres for the record.
According to UK newspaper Metro, Salah scored a remarkable 44 goals in 52 matches in his first season at Anfield, before contributing 27 goals during the 2018-2019 campaign in which Liverpool won the Champions League.
Salah has racked up a number of awards since joining Liverpool. He won the League's Golden Boot Award for 2017-2018 and later won the award again the following season alongside teammate Sadio Mane and Arsenal's Pierre-Emerick Aubameyang, making him the sixth player in history to win the award in back-to-back seasons. Salah has also claimed Player of the Month three times, once in 2017 and twice in 2018.
Salah also won the African Player of the Year award in 2017 and again in 2018.
Last year, Forbes listed Salah among the highest-paid athletes in the world, with the player's earnings valued at $US 25.1 million.
Commenting recently on the Egyptian football star, Italian legend Alessandro Del Piero remarked: "Salah is already a God – and not only in Egypt."
Edited translation from Al-Masry Al-Youm