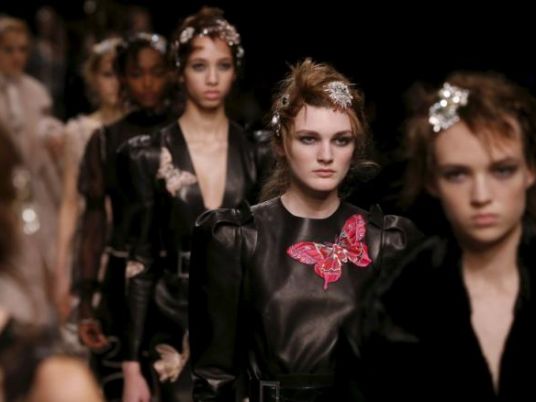 British fashion put a brave face on Brexit Friday as it began its first catwalk shows since the vote, citing a surge in sales on the weak pound despite fears that leaving the EU will hit exports and increase costs.
"It might not have been what we wanted, but I think there's actually a sense of confidence," said British designer Anya Hindmarch, one of hundreds showing their wares at London Fashion Week.
Organisers are hoping that the five-day event, which includes catwalk shows by Burberry, J.W. Anderson and Topshop UNIQUE, will help alleviate Brexit blues in an industry that overwhelmingly wanted to stay in the EU.
"We have to look at the positives. Over the past few months, our luxury and retail has seen a bounce in terms of sales in the UK," said Caroline Rush, chief executive of the British Fashion Council.
"We're very much open for business, we're known to be collaborators with the rest of the world and I think it's an opportunity for us to really demonstrate that over the next few days."
Retail sales in Britain have largely held up since the June referendum vote to leave the European Union, easing fears of an immediate loss of consumer confidence.
Analysts said this partly reflected falling prices, while the dramatic drop in the value of the pound has particularly boosted luxury items, which are now cheaper to tourists.
But the weak currency will also make it more expensive to import goods from overseas, with high street giant Next among those warning of a rise in prices next year.
Hindmarch, who has stores around the world including in China, Japan and the United States, said she believed the overall impact would be "negligible".
"Suddenly we're 10 percent cheaper to sell — so we're going to be selling more," Hindmarch told AFP.
"We might be four percent more expensive to buy, who knows? It's all swings and roundabouts, it balances. I really don't think it's going to be mathematically a big problem."
Rush added: "The industry and businesses really need to focus on their margin, really need to focus on their price and really think about that to protect themselves.
"Many of our businesses currency hedge in any case, and for those that don't, it's made them think about it."
Nervous Italian suppliers
The potential loss of access to the European single market is a big concern, however, as the bloc accounts for about 70 percent of British textiles and apparel exports.
"My biggest concern is my Italian suppliers, who are very nervous," Hindmarch said. "I make almost everything in Italy, so many people do here."
There is also the risk that restricting immigration into Britain — a major issue in the referendum campaign — will deter the foreign talent that has helped turn London into a unique creative melting pot.
"Many of our young designers weren't necessary born in the UK, but they came here to study, they wanted to stay and build businesses and they're now employing hundreds if not thousands of people," said Rush.
Prime Minister Theresa May held a reception of key industry figures on the eve of Fashion Week, following the example of her predecessor's wife, Samantha Cameron, who attended Thursday's event at Downing Street.
May sought to reassure the fears of the industry, which contributes £28 billion ($37 billion, 33 billion euros) to the economy and supports nearly 900,000 jobs, while giving little away on her plans for Brexit.
"From our home-grown start-ups to international fashion houses — every business in the industry will play a major role in ensuring we make a success of Brexit," she said.
Rush said the sector has sent a clear message to the government about its concerns, but had also raised the potential opportunities.
"There was a lot of talk about whether this is going to see a resurgence in manufacturing within the UK, how can we put investment into that," she said.