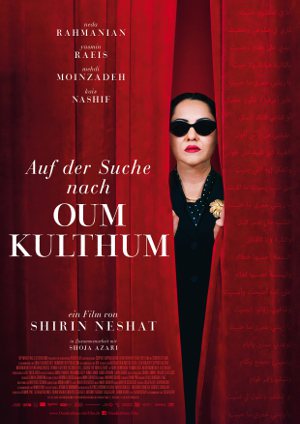 Aswan International Women Film Festival (AIWFF) has chosen the German-Austrian movie  "Looking for Um Kulthum" to screen at the opening of its second edition, which is dedicated to Algerian heroine Gamila Abu Hereid and will be taking place between February 20 and 26, Al-Ahram Arabic website reported.
Ahmed Hassouna, artistic director of the AIWFF, declared the movie will be participating in the competition for Best Feature Film, in addition to its screening in the opening. The movie stars Neda Rahmanian, Yasmin Raeis, Mehdi Moinzadeh and Kias Nashif and was directed and written by Shirin Neshat and Shoja Azari.
"Looking for Um Kulthum" revolves around an artist in exile who embarks on a journey to capture the life and art of the legendary Egyptian singer Um Kulthum. The movie links the struggles women face and the sacrifices they make throughout their journey as they cross the line in conservative male-dominated societies.
The movie was screened in the Toronto International Film Festival (TIFF) in 2017 and received great reviews. The official TIFF website acclaims the movie saying "Neshat delivers a gorgeous reflection on art, gender, and her own shifting place in the world."
Um Kulthum was nicknamed the "Star of the East" and her songs resonate till today in the minds and hearts of Egyptians and Arabs. Some of her most famous songs are "Enta Omri" (You are my life), "Alf Leila W Leila" (A Thousand and One Nights), "Fakarouni Eineik" (Your Eyes Reminded Me) and "Al-Atlal" (the Ruins).
Last year, the first edition of the Aswan International Women Film Festival screened the Egyptian movie "Leila Bent Al-Saharaa" (Leila Daughter of the Desert). Produced in 1937 the movie was produced, directed and starred by Bahiga Hafez and went on to be a great success. The movie is the first ever Egyptian movie to make it to Venice International Film Festival.
As for other events this year, the Festival will be recognizing actress Mona Zaki for her roles supporting strong women. Last year the festival recognized Romanian actress Cristina Flutur, winner of the Cannes award for best actress in Cannes Awards 2012.