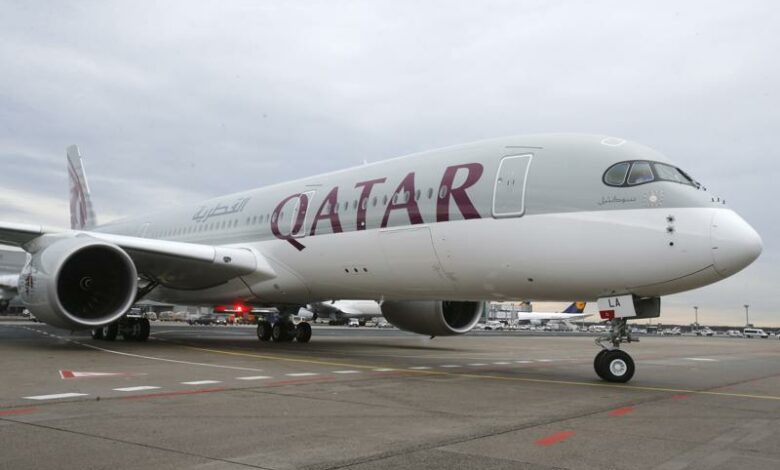 On Thursday, Luxor International Airport received the first flight from Qatar International Airport, after a hiatus of more than nine years.
Three flights per week are scheduled to be operated from Qatar to Luxor.
The plane was received with a water salute in accordance to international traditions with the public relations team organizing a row of roses and selected gifts that were distributed to the passengers on arrival to the airport.
A folklore show was performed as well to passengers. Some interacted with the festivities and expressed their happiness at the reception and at facilitating their arrival procedures.
Earlier in April, Luxor International Airport received for the first time an EgyptAir plane coming from Barcelona, ​​as part of the Ministry of Civil Aviation efforts to open new horizons between Egyptian and European airports to boost tourism.
Egypt appointed an ambassador  to Qatar in June 2021 for the first time since 2014.
Egypt withdrew its ambassador from Qatar in 2014, before deciding to completely sever diplomatic relations in mid-2017.
This type of ambassador enjoys expanded legal powers, including signing agreements in the name of the state or body he represents, unlike a regular ambassador.
Relations between Egypt and Qatar became tense after the overthrow of the late President Mohamed Morsi and the Muslim Brotherhood in 2013. Egypt joined Saudi Arabia, the UAE, and Bahrain in cutting ties with Qatar on June 5, 2017.
Qatar has been mending its relations with the countries since they all signed the Al-Ula agreement on January 5, 2021.
The foreign ministers of Qatar and Egypt have recently exchanged official visits to Cairo and Doha, and the Emir of Qatar, Sheikh Tamim bin Hamad, and Egyptian President Abdel Fattah Al-Sisi exchanged visiting invitations, amid continuing talks to improve relations.