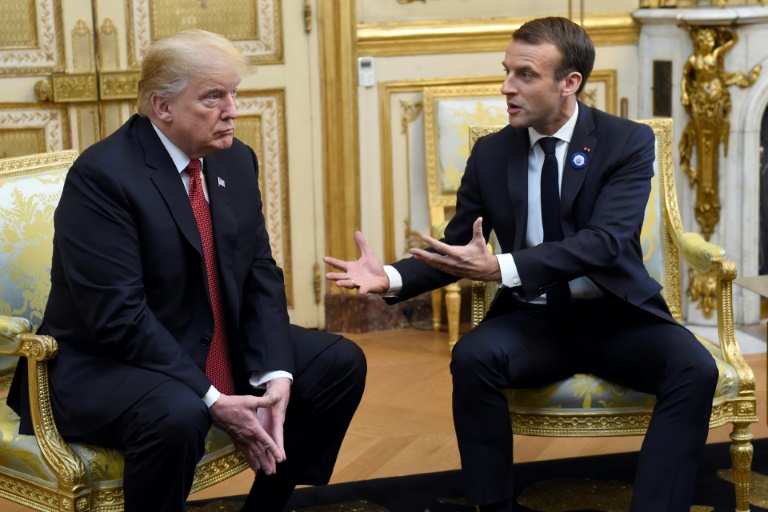 US President Donald Trump and his French counterpart Emmanuel Macron sought Saturday to ease tensions caused by a defense row that risked clouding World War I centenary commemorations in Paris.
Trump was one of dozens of world leaders taking part in events to mark the 100th anniversary of the end of the war.
On Saturday, he and his wife Melania cancelled a trip to Belleau Wood battlefield and cemetery in northern France, citing "scheduling and logistical difficulties" caused by the rainy weather.
Coming on the eve of Veteran's Day in the United States, the decision drew criticism on social media, where many noted that the rain had not stopped Macron, Germany's Angela Merkel or Canada's Justin Trudeau from paying their respects to the dead.
"They died with their face to the foe and that pathetic inadequate @realDonaldTrump couldn't even defy the weather to pay his respects to The Fallen," Nicholas Soames, a British Conservative member of parliament and grandson of Winston Churchill tweeted.
Ceremonies have been held across the world this week in honor of the 18 million soldiers and civilians who perished in World War I.
– Latest spat –
On Sunday, around 70 world leaders, including Trump, Russia's Vladimir Putin, Turkey's Recep Tayyip Erdogan, and Merkel, are due to attend the main centenary ceremony at the Tomb of the Unknown Soldier under the Arc de Triomphe.
The ceremony will mark the very hour — 11 am on November 11, 1918 — when the guns fell silent after more than four years of slaughter on the Western Front.
Some 10,000 police have been drafted in to ensure maximum security in a city repeatedly targeted by jihadists.
On Saturday evening, the Trumps were among more than 120 guests, including dozens of heads of state and government, who attended a special dinner hosted by Macron and his wife Brigitte at the Orsay art museum in Paris.
Earlier, in one of the day's high points, Macron and Merkel unveiled a plaque to Franco-German reconciliation in a forest clearing in northeast France where the armistice ending WWI was signed.
The memorial is doubly symbolic as Adolf Hitler forced the French to return to it on June 22, 1940 to sign their own surrender at the start of World War II.
Macron, sporting a cornflower in his lapel — the French equivalent to Britain's remembrance poppy — and Merkel reviewed grey-clad soldiers from the Franco-German brigade, before unveiling a plaque to Franco-German reconciliation.
France and Germany fought three wars between 1870 and 1945.
Macron, a centrist advocate of open borders and multilateralism, has repeatedly invoked the war in recent weeks to hammer home his message that rising nationalism is again destabilizing the world.
Merkel, arriving in Paris, praised Macron's symbolic gesture in inviting her, adding that having "peace today is not a matter of course".
"We have to continue working for it," she said.
The German chancellor will be first to speak Sunday afternoon at a Forum for Peace which Macron hopes will help foster multilateralism. Putin is expected to attend, Trump is not.
Macron and Trump at their meeting at the Elysee presidential palace downplayed their divisions after a tumultuous start to the weekend, which saw Trump fire off a tweet slamming Macron's proposals for a European army just as his plane was touching down in Paris.
The spat was the latest the two leaders, who struck up a warm relationship initially but have clashed over a growing list of issues, including Trump's decision to pull the US out of the 2015 Paris climate accord and the Iran nuclear deal.
– 'Very insulting' –
"President Macron of France has just suggested that Europe build its own military in order to protect itself from the US, China and Russia," the US president tweeted, referring to remarks made by Macron in an interview three days earlier.
"Very insulting, but perhaps Europe should first pay its fair share of NATO, which the US subsidizes greatly!" he added.
In the interview, Macron had cited Trump's plans to pull the US out of a Cold War-era nuclear treaty and said a joint European Union force was needed to end Europe's reliance on US military might.
"We have to protect ourselves with respect to China, Russia and even the United States," he said, listing various threats including cyberattacks.
Macron later said his call for greater European autonomy on defense was not intended as a snub towards the US and backed Trump's calls for EU members to boost their defense spending.
"We need a much better burden-sharing within NATO," he said, patting his counterpart's knee affectionately.
Trump described himself and Macron as "very good friends" and expressed support for "a strong Europe".
On the sidelines, US Secretary of State Michael Pompeo and French counterpart Jean-Yves Le Drian discussed how to strengthen NATO, Iran, North Korea and Syria, US spokesperson Heather Nauert said.
The WWI commemorations come at a watershed moment for the liberal post-war order, with anti-immigration populists at the helm in the US and Brazil, sharing power in Italy, and making strong gains in Germany, where Merkel has announced her resignation in 2021 after a series of electoral setbacks.