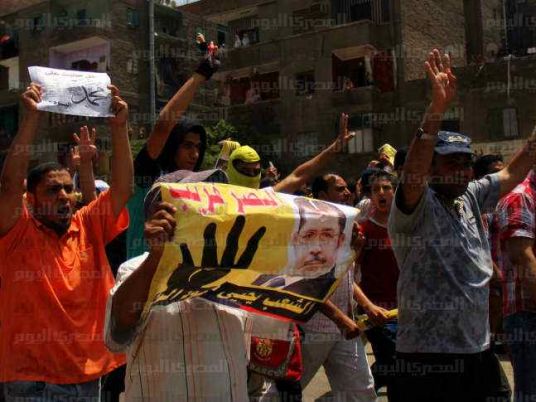 A Cairo-based terrorist group, called the "Revolutionary Punishment" published on Wednesday a video depicting the killing of a man in Helwan, who was murdered for cooperating with the security services against protesters.
The video was dubbed "The execution of the traitor." The man, Walid Ahmed Ali, allegedly worked for Helwan police, and reported about the organizers and leaders of protests in Helwan, pointing out he caused the arrest of 40 members of the group.
The victim was killed with an automatic rifle, while an IS-related song, called Saleel al-Sawarem, was played in the background. The group mentioned that the incident was the beginning of other similar operations against policemen.
Amr Emara, a Muslim Brotherhood dissident, said: "The Brotherhood succeeded after the January 25 revolution in training 1,000 young men known within the organization as "Group 1000." They were professionally trained at the hands of Ezz el-Din al-Qassam Brigades of Hamas, in order to protect demonstrations."
Sabra al-Qasimi, former jihadist, told Al-Masry Al-Youm: "The group belongs to to the Muslim Brotherhood movement and aims at spreading chaos and violence in the country, through the primitive bombings it, and others, claim responsibility for."
He added: "It's far from the IS in terms of organization, but the IS is the inspiring spiritual father of all organizations that espouse violence."
Qasimi said that the video confirms that the Muslim Brotherhood has completely turned against the principle of peaceful struggle.
Edited translation from Al-Masry Al-Youm