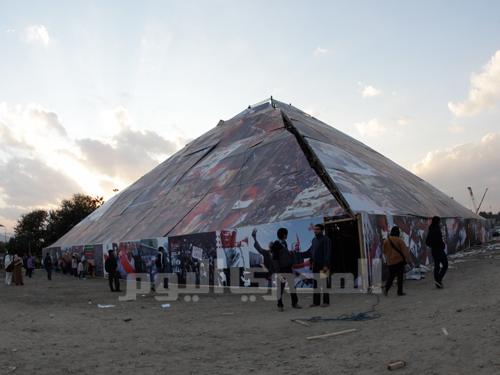 The Ministry of Manpower expressed hope in a statement on Friday that both sides would abide by a new agreement reached between the ministry and labor leaders at Mahalla Spinning and Weaving Company to end the laborers' strike and resume work starting Saturday.
The agreement includes the formation of the Board of Directors of the company in accordance with the law through elections.
The Minister of Manpower Kamal Abu Eita said the state will be committed to applying the minimum wage rate on the public business sector immediately after it is officially approved.
The minister also said the new agreement will honor the previous agreement from 9 October 2011 between the representatives of laborers and the ministries of Industry, Trade and Labor.
The dates of the distribution of the annual bonus would be on fixed dates, according to the new agreement. The first batch would be distributed during Ramadan, the second would be before Eid al-Fitr, the third before Eid al-Adha, and the final would be after the meeting of the general assembly before the end of December.
The parties concerned also agreed not to prosecute laborers or employees of the company who took part in the strike, to refer corrupt leaders of the company to the public prosecution, and to disburse full salaries for the period of the strike.
Workers representatives held a meeting on Thursday with Undersecretary of the Manpower Ministry Mohamed al-Sabbagh, where they reached an agreement to end the workers' strike.
Edited translation from Al-Masry Al-Youm