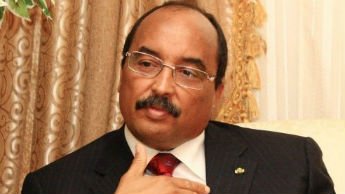 Mauritania's justice minister arrived in Cairo on Sunday at the start of a visit aimed at making preparations for the rescheduled Arab Summit, which Mauritania will host in July.
Justice Minister Ibrahim Walad Dadah is acting as special envoy for the Mauritanian President and arrives by way of Morocco.
Dadah is in Cairo to formally invite Egypt to attend the Arab Summit as well as meeting officials from the Arab League to finalize preparations for the event.
Mauritania is hosting the summit for the first time, and only took on the role of host this year after Morocco dropped out. With responsibility passing to Mauritania — the next nation on the alphabetical list — the summit was rescheduled from April to July.
In declining to host the summit, the Moroccan Foreign Ministry said the event would represent a pretence of Arab unity, when Arab nations are increasingly divided on key issues, including the appropriate response to terrorism and insurgencies across the MENA region.
In a statement, the ministry said, "With an absence of important decisions and concrete initiatives that meet the aspirations of the Arab citizens, this summit will be merely an occasional meeting that gives a false indication of unity among Arab countries."
At the last summit, held in Egypt in March 2015, Arab leaders announced plans for a unified Arab military force to tackle military and security issues in the region. They also agreed to continue their military intervention in Yemen, where a Saudi-led coalition was battling Houthi fighters that have the backing of Iran.
The next summit, in Mauritania, is expected to deal with similar issues, including the war in Yemen and ongoing conflicts in Iraq, Syria and Libya.
Dadah's visit to Egypt is the second official visit by Mauritanian officials, the first being when the Mauritanian president, Muhammad Walad Abdel Aziz met with Egyptian President Abdel Fatah al-Sisi in April.
The meeting between the two presidents addressed regional issues, bilateral ties and the impending Arab Summit.
Edited translation from Al-Masry Al-Youm