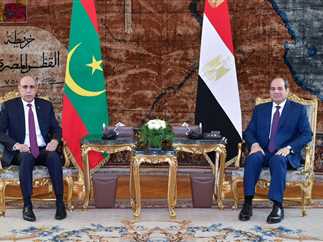 President Abdel Fattah al-Sisi on Sunday met with Mauritanian president Mohamed Ould Cheikh Ghazouani in Cairo, where discussed matters such as the importance of a binding agreement for the Grand Ethiopian Renaissance Dam (GERD).
"The meeting with Mohamed Ould Cheikh Ghazouani made us happy today. We wish the Mauritanian people all the best under your leadership, and we look forward to more cooperation between our two countries," Sisi said.
Sisi added, during the press conference with his Mauritanian counterpart: "A binding legal agreement has been agreed on regarding the filling and operation of the Grand Ethiopian Renaissance Dam."
"We also agreed to strengthen our efforts on the African arena in light of the efforts made by Egypt and Mauritania in this regard, which enables us to achieve prosperity and stability for all the people of our ancient African continent," Sisi said.
Ghazouani meanwhile said he consulted with Sisi on all issues raised in the Arab and African regions, such as the situation in Libya, Sudan, the Nile waters crisis, and Egypt's right to the Nile water.
"We touched on the patience of the wise Egyptian leadership in dealing with its right to the Nile waters," he added, during the press conference.
"We are happy to be in Egypt today, and I stress the prominent role that Egypt has played and is still playing in the major issues of our Arab and Islamic nations," Ghazouani said.
Stagnant talks
Egypt and Sudan say they want a legally binding agreement on operating the dam, while Ethiopia says any pact should be advisory.
Both countries consider the dam a threat to their vital water supplies, while Ethiopia considers it essential for development and doubling its electricity production.
The downstream nations fear possible blows to water facilities, agricultural land, and overall availability of Nile water.
Negotiations over the dam between Egypt, Ethiopia, and Sudan have stalled for years, with the three parties ultimately failing to reach any agreements.
The disputed dam is the largest hydroelectric project in Africa, with a cost of more than four billion dollars.