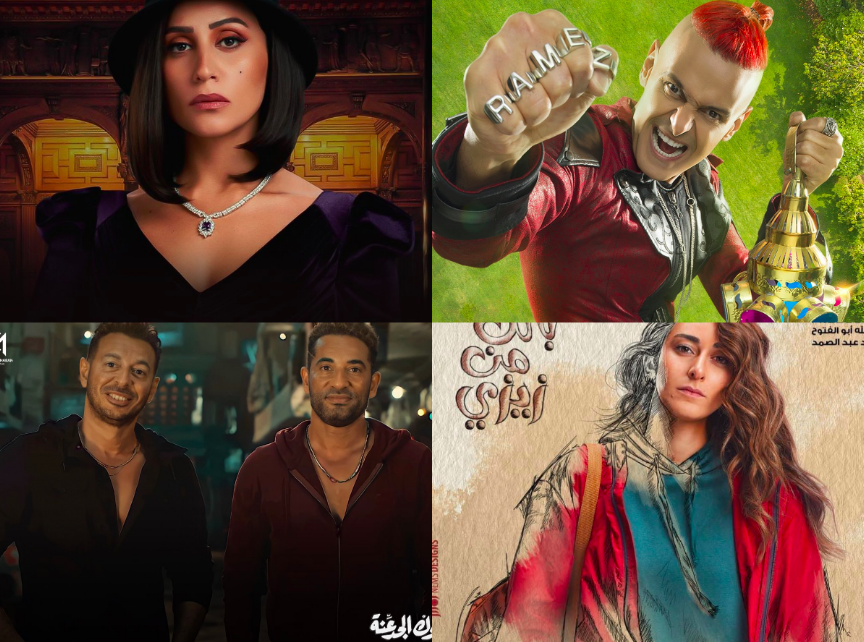 The MBC Masr network announced the schedule for its broadcast of dramas and exclusive programs featuring the most prominent stars this Ramadan.
Ramez Galal's 2021 Ramadan prank program "Ramez Aa'lo Tar" (Ramez Lost His Mind) will broadcast immediately after iftar at 6:30 pm Cairo time and 7:30 pm Mecca time, and replay at 12 midnight.
Galal continues with his annual adventures and pranks.
This year he presents the show in cooperation with the General Authority for Entertainment in the Kingdom of Saudi Arabia.
The prank begins by the program's team hosting one a celebrity. The guest is then transported to a place somewhere in Riyadh city and are sent on an unexpected adventure.
MBC Masr also broadcast "Meluk al-Gadaana" (Kings of Courageousness) for Mostafa Shaaban and Amr Saad on MBC Masr at seven pm Cairo time and replay at 12:30 am, and at one pm. The show brings together Shaaban and Saad in their first appearance together, which revolves around the rise of two young men from the bottom of society who are exposed to many difficulties.
The series starring also Yasmin Rais, Rania Youssef, Amr Abdel Gelil, and others. It is written by Mohamed Sayed Bashir and directed by Ahmed Khaled Moussa.
"Lahm Ghazal" (Deer Meat), starring Ghada Abdel Razek is to broadcast on MBC Masr at 8:00 pm, and to replay at 1:30 am, and 2:00 pm.
The series takes place in an unconventional setting that mixes the past, present and future, starring Razek in the lead role alongside co-stars Sherif Salama, Amr Abdel Gelil, Khaled Kamal, Ahmed Khalil, Mai Selim, Wafa Amer, and others.
It is written by Iyad Ibrahim, and directed by Mohamed Osama.
The "Khamas Nogoum" (Five Stars) prank show, broadcast daily on MBC Masr, at 9:00 pm and will replay at 3:00 pm. It will also replay at MBC Egypt 2 at 6:00 pm.
The show brings together five stars who will meet for the first time together: Ghada Adel, Nour, Karim Fahmy, Mostafa Qamar, and Mohamed al-Sharnouby.
Together, the five present hidden camera episodes in different places, which set off many funny situations, and a number of other stars join them in each episode.
"Qasr al-Nil" (Al-Nil Palace) starring Dina al-Sherbiny will broadcast daily on MBC Masr, at 9:30 pm, replay at 4:30 pm, and replay on MBC Egypt 2 at 1:00 am.
The events of the series take place in Egypt in the 1950s, where political upheaval and family drama combines.
An elite cast lends their talents to the show including Salah Abdullah, Reham Abdel Ghafour, Mahmoud al-Bezzawy, Ahmed Magdy, and others. The series is written by Mohamed Suleiman Abdel-Malik and directed by Khaled Marie.
"Khally Balak men Zizi" (Take care of Zizi), starring Amina Khalil and Mohamed Mamdouh, will be broadcast daily on MBC Masr, at 10:30 pm, and replay at 5:30 pm, and replay on MBC Masr 2 at 1:00 am.
This unconventional family drama about a neurotic young woman promises to deliver many laughs.
The series stars Safaa al-Toukhi, Bayoumi Fouad, Ali Qassem, Salwa Mohamed Ali, and others. It is written by Maryam Naoum, and directed by Karim al-Shenawy.
The channel also broadcast Fananees cartoon daily at 6:15 pm. This daily animation program that brings together famous Fananees characters, as they present during the episodes a number of comedic adventures related to the holy month.
The series "2020" brings together Nadine Njeim and Qusay Khouli, and is broadcast daily on MBC Egypt 2 at 8:00 pm, and replay at 2:00 pm in the afternoon and 3:00 am.
Events in this drama oscillate between revenge, justice and love. Nadine, a captain in the Internal Security Forces, decides to complete the career of her brother, who was killed by a gang that deals in drugs. Qusay stars as the criminal mastermind of this gang.
"Mamnoua al-Tagaoul" (No tour) will be broadcast daily on MBC Egypt 2, at 12:00 pm, in which star Nasser al-Qasabi sheds light on how people coped with the exceptional circumstances that the coronavirus epidemic imposed on the world, including social distancing, closure of airports, distant education and more.
Edited translation from Al-Masry Al-Youm