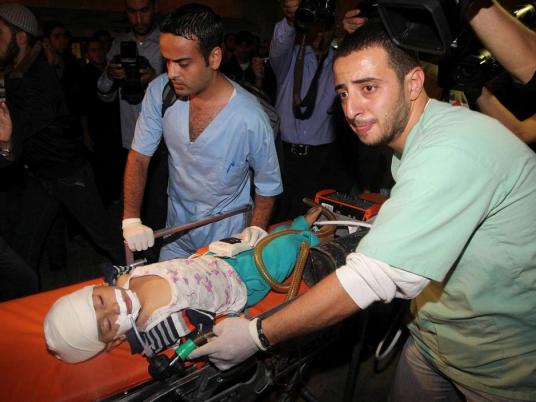 At least seven members of the same family, including four children, were among nine people killed when an Israeli missile struck a family home in Gaza City, the health ministry said.
Among the dead were a man, two women and four children, all of whom were from the Dallu family, said spokesperson Ashraf al-Qudra.
A 70-year-old woman, also believed to be from the same family, and a 22-year-old man were also killed, he said.
At least 20 people were injured in the strike, which flattened the three-story building in Gaza City's Nasser neighborhood, AFP reported.
US President Barack Obama said on Sunday he fully supported Israel's right to defend itself and called for an end to the firing of missiles into Israel by militants inside Gaza in order for a peace process to go ahead.
"There's no country on earth that would tolerate missiles raining down on its citizens from outside its borders," he said. "We are fully supportive of Israel's right to defend itself."
Prime Minister Benjamin Netanyahu said earlier that Israel is ready to "significantly expand" its operation against fighters in the Hamas-run Gaza Strip as it enters its fifth day.
"The army is prepared to significantly expand the operation," Netanyahu said at the start of the weekly cabinet meeting. "The soldiers are ready for any activity that could take place."
Israeli raids killed three children and critically wounded two more in Gaza early Sunday even as the army said there had been no rocket fire all night amid growing talk of a truce.
Aircraft also hit two media centers in Gaza City, wounding at least eight journalists, including one who lost his leg, emergency services said, as Egypt and France pressed efforts to broker a ceasefire and prevent an all-out ground war like that of 2008-9.
A senior Palestinian official in Gaza told AFP that amid serious efforts to end the violence, a deal could be reached later on Sunday or on Monday.
"There are serious talks to reach a truce, and it is possible that understandings will be reached today or tomorrow," the official said, speaking on condition of anonymity.
With France's top diplomat Laurent Fabius en route to the region to join the truce efforts, an Israeli air strike in central Gaza killed an 18-month-old boy and critically wounded his two young brothers, hours after warplanes killed two more children in the north.
The attacks came as towns and cities in southern Israel spent a quiet night with the military confirming that no rockets hit Israel between 9:00 pm (1900 GMT) on Saturday and 7:00 am (0500 GMT) on Sunday, when two struck the south.
The latest deaths took the overall toll in Gaza to 49 from Israeli strikes since Wednesday with more than 450 people injured, the emergency services said. Nine of the dead have been children.
Israel's pounding of Gaza through the night dented truce hopes raised by Egyptian President Mohamed Morsy after an emergency meeting of Arab foreign ministers in Cairo on Saturday.
Morsy told reporters his government was in "vigorous" communication with Israel and the Palestinians, with "some indications that there could be a ceasefire soon."
Hamas prime minister Ismail Haniyeh's office said he had had been in telephone talks with Morsy, who shares the Islamist group's roots and has moved to improve relations with Gaza's rulers since taking office in June, easing their long diplomatic isolation.
But Israeli Prime Minister Benjamin Netanyahu insisted there would only be a ceasefire if armed groups completely halt their fire on southern Israel, media reports said.
And Israeli police said five rockets were fired from Gaza early on Sunday, at least two of which hit.
Medics named the three children killed in Gaza as Tamer Abu Saeyfan, three, his sister Jumana Abu Saeyfan, one, and 18-month-old Iyyad Abu Khusa.
Health ministry spokesman Ashraf al-Qudra told AFP that the third child's two brothers, aged four and five, were "in critical condition."
The child death toll from Israel's Gaza air campaign has prompted outrage in the Arab and Islamic world, with Turkish Prime Minister Recep Tayyip Erdogan saying that sooner or later Israel would be held to account for the "massacre."
Israeli aircraft hit two media buildings in central Gaza, those of Al-Quds and Al-Aqsa television channels, wounding eight journalists and causing extensive damage, Qudra said.
Warships stationed off the coast of Gaza also entered the fray, firing more than a dozen shells into the enclave, an AFP correspondent reported.
The French foreign minister was to hold talks with top Israeli and Palestinian leaders during his whirlwind one-day mission to the region looking to build on the truce efforts of Arab and Turkish leaders.
The Egyptian president had voiced guarded optimism late on Saturday.
"There are some indications that there could be a ceasefire soon," he told a joint news conference in Cairo with the visiting Turkish premier. But there are "no guarantees."
Hamas chief Khaled Meshaal was also in Cairo for truce talks as the Arab League ministers held their emergency meeting on the conflict, a senior Hamas official said.
After the talks, the 22-member pan-Arab body said it would send a high-level delegation to Gaza, headed by its chief Nabil al-Araby, on Sunday or Monday "to affirm solidarity with the Palestinians."
But a senior official in the Hamas foreign ministry told AFP on Sunday that the meeting was not expected to take place before Monday.