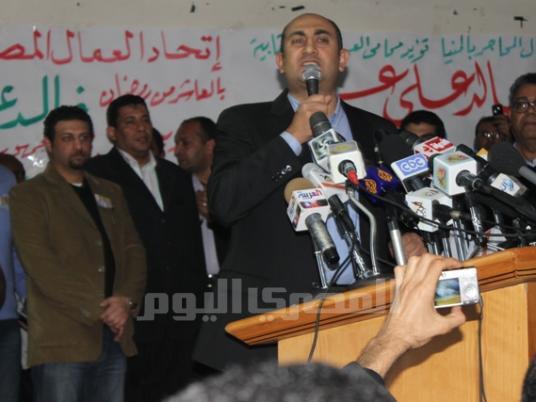 At just 40 years old, Khaled Ali Omar is Egypt's youngest presidential candidate. For well over a decade, the popularity of this labor and human rights lawyer has centered around socialist, activist and labor circles.
The fiery leftist legal activist was not quite a household name prior to his presidential nomination, but may be quickly becoming one.
Ali was a relative latecomer to the presidential race, announcing his intention to run on 27 February, just one day after he turned 40 — the minimum age requirement for presidential candidates.
Unlike most candidates, Ali's presence was clearly felt in numerous street protests prior to and since the 25 January revolution began in 2011. He is often seen leading chants and marches.
Ali has traveled nationwide in support of the economic and social rights of Egypt's toiling masses. He has been a pivotal figure in terms of his legal support for student protests, farmers' struggles, workers' strikes and factory occupations.
An outspoken critic of the Hosni Mubarak regime, Ali established the Egyptian Center for Economic and Social Rights in 2009 and presently serves as its executive director. In 1999, he was a founding member of the independent Hisham Mubarak Law Center, where he worked to provide legal support for detained and imprisoned anti-Mubarak activists.
Accusing him of organizing illegal revolutionary activities, Mubarak's security forces stormed the center's office and arrested Ali for several days in early February 2011, during the dictator's last days in office.
Ali has been at the forefront of progressive figures demanding the realization of the aims of the revolution, specifically those of the famous chant: "Bread, freedom and social justice." His campaign team has chosen "We will fulfill our dream" as his campaigning slogan. He has been dubbed the "candidate of the poor" and "the defender of simple folk."
Ali's actions since announcing his campaign have been unorthodox at times, as he seems happy to place principles before self-interest. On 11 April, he served as a defense lawyer for the Salafi preacher Hazem Salah Abu Ismail before Cairo's Administrative Court, and even won a verdict in favor of the ultra-conservative candidate's readmission into the presidential race.
Although the Presidential Elections Commission disqualified Abu Ismail three days later (along with Mubarak's spy-chief and Vice President Omar Suleiman, and the Muslim Brotherhood's multimillionaire candidate Khairat el-Shater), media coverage of his legal defense mentioned that Ali was the first candidate to defend another presidential candidate.
On 15 April, Ali announced that he would be willing to drop out of the presidential race if revolutionary forces were able to agree to back one specific candidate.
Ali has gained plenty of grass-roots support from Egypt's working classes in light of his campaigns for independent trade unionism and labor rights as one of the country's most successful labor lawyers.
This presidential hopeful has been the driving force behind numerous legal victories for the labor movement, including the annulment of rigged elections at the state-controlled Egyptian Trade Union Federation, raising the monthly minimum wage in Egypt, the lifting of 15 years of judicial sequestration imposed on the Engineers' Syndicate, and the annulment of corrupt privatization contracts for five companies.
His struggles for the renationalization of public sector companies — which were sold for less than their market value — and his demands for public fiscal transparency have earned him the title of "anti-corruption crusader." In 2011, he was bestowed the "Egyptian Corruption Fighter" award by the non-governmental human rights association Misriyin Ded el Fassad (Egyptians Against Corruption).
Unlike other candidates, Ali has also been a vocal critic of the military junta governing Egypt since Mubarak's abdication. He has waged struggles against the ruling Supreme Council of the Armed Forces (SCAF) and its referral of over 12,000 civilians to military tribunals since the revolution began.
Ali's ongoing legal struggles include imposing a maximum wage cap of not more than 15 times the minimum wage, so as to decrease the burden of state expenditures. He is also appealing against the unprecedented Law 34/2011 criminalizing strikes and protests.
In terms of his campaign platform, Ali seeks to empower Egypt's workers, employees and farmers. His campaign calls for cooperatives to increase Egypt's agricultural lands, to reclaim desert lands, and to realize self-sufficiency in agricultural production.
His platform also calls for progressive taxation, the equitable redistribution of land, natural resources and national wealth. He seeks to strike a just balance between the influence of the public and private sectors of the economy, with the aim of realizing social justice for the employees of both sectors. Ali has also sought to help organize the employees of the informal sector of the economy, and to provide job security for employees in all economic sectors.
Ali's campaign calls for the provision of free education, as a key mechanism by which to eradicate illiteracy and lift tens of millions of Egyptians out of poverty and unemployment.
In terms of international diplomacy, Ali seeks a sovereign Egypt with its own independent foreign policy. He has called for the confrontation of the Israeli occupation of Palestinian and other Arab lands through diplomatic and economic pressure. Ali has reiterated the necessity of lifting of Egyptian-Israel siege imposed on the Gaza Strip since 2007.
Ali's secular and populist ambitions will likely not gain him any monetary support from the Arab Gulf or the blessing of western states, with their pro-Israel and pro-free market policies.
The campaign had difficulty collecting the 30,000 endorsements from 15 separate governorates needed to declare Ali's official candidacy. Instead, he ended up relying on the endorsements of 30 pro-revolution members of parliament.
At the moment Ali is an underdog in the presidential race. He has slim chances of making it to the the run-offs of June 16-17 — but if the revolution has taught us anything, it is: expect the unexpected.