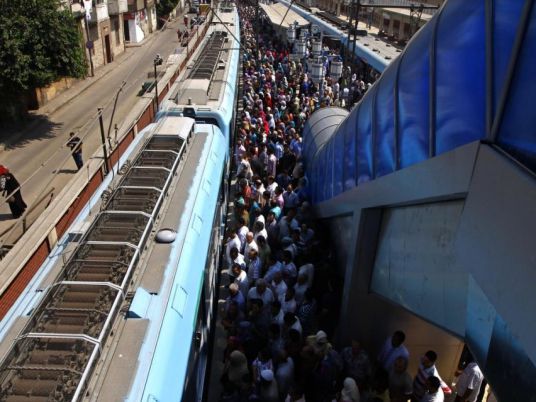 Transportation Minister Saad al-Gioushy has promised to keep metro ticket prices economical, although he said the ticket price for the air-conditioned train on Cairo's line number one could reach as high as LE3, in addition to a 10 percent annual increase.
In a phone conversation on a talk-show aired on privately-owned Al-Hayah TV channel, Gioushy said that the ticket price for the third metro phase will depend on the number of stops. Categories like students, low-income households and the disabled, who could be eligible to receive a reduced ticket price, will be taken into consideration.

"It's justice. It's a redistribution for subsidy in order to reach those who deserve it. This will consider the unable categories. Metro price ticket will be around LE2, but the proposal is not approved yet," he added.
The ministry has taken the advice and expertise of foreign personnel and companies to improve the performance of the national railways, the minister said, adding that "profits of the high-speed train project are very good. There are many offers being mulled by the ministry to select the best."
He also indicated that getting the help of foreign expertise does not mean privatization of the railways authority.
"There are 960 trains operating on old technologies. There are efforts to introduce new technologies to enhance the performance. We seek to apply an economical price for the first-class and high-speed trains without increasing the burden on those on low incomes," the minister said.
Edited translation from Al-Masry Al-Youm