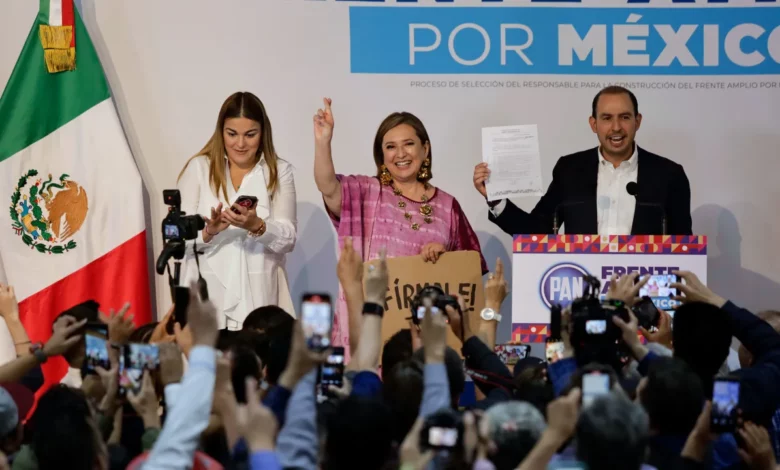 Mexico City
CNN
 —  An extraordinary campaign by the
Mexican president
to undermine a leading opposition contender for the country's 2024 presidential election has drawn an official rebuke from the federal election authority and criticism that he is damaging the democratic process.
It also appears to be having an unintended effect: delivering a much-needed boost to the coalition aiming to unseat his party.
New polling this week from a Mexican newspaper showed Xóchitl Gálvez, a freshman senator vying for the ticket of Frente Amplio por México, an alliance of three parties, within striking distance of the front-runners from the leftist president's party — a significant development in a race that had widely been seen as leaning in the president's party's favor.
Gálvez's remarkable ascent comes as President Andrés Manuel López Obrador has levied a near-daily stream of attacks against her.
In regular news conferences this month, López Obrador has called her a "wimp," "puppet," and "employee of the oligarchy," questioned her upbringing in poverty, and, last week, released the private financial information of her business.
Gálvez has proven so adept at turning the attention into momentum that commentators joke the president has become her campaign manager.
"AMLO is obsessed with Senator Gálvez," Enrique Quintana, the general editorial director for the business newspaper El Financiero, wrote in a recent column, using a nickname for the president. "In a few weeks, he made her the most mentioned opposition candidate and considered by many to be the favorite."
"This is gold for her," political analyst Carlos Bravo Regidor told Americas Quarterly.
The immensely popular López Obrador is barred under Mexican law from seeking re-election after completing his six-year term. Crowded primaries began this summer to determine his successor, with both the opposition coalition and Morena, the president's party, set to select their candidates in September. The general election will take place next June.
Despite disastrous pandemic policies that ranked Mexico among the countries with the highest Covid-19 death rates and mostly unchecked cartel violence, López Obrador has enjoyed some of the highest favorability ratings of any world leader. The eventual Morena flagbearer – among the candidates are the recent mayor of Mexico City, referred to as his "political daughter and his former foreign secretary – has been viewed as his likely successor.
With a compelling personal story and a tendency for headline-grabbing stunts — she once dressed as a T. rex on the senate floor to protest a controversial electoral reform, a proposal from political "dinosaurs" — Gálvez brought immediate energy and a media frenzy with her entrance into an opposition contest that had as yet failed to resonate with the public.
In a series of press interviews and viral social media posts, the senator, who represents the conservative PAN party but has staked out a number of progressive policy positions, has fought back with characteristic candor, framing the president as reckless and machista.
Her standing has jumped in the polls. In a new survey released this week by El Financiero, Gálvez's support within the coalition primary increased by nine percent from two weeks ago, putting her six points ahead of her closest contender, the president of the lower house of Congress. In hypothetical match-ups against the three leading Morena candidates, she trails by five to 12 points.
"He wants to undermine me psychologically, to make me fold, to put me in a corner," she told CNN en Español's Conclusiones program on Monday. "I'm a very badass woman. I'm a very daring woman. I'm a brave and forward-thinking woman. So this is just the beginning."
López Obrador's commentary has drawn the scrutiny of the National Electoral Institute, an independent agency. Last week, a complaints commission within the body said that López Obrador's remarks "may violate the principles of impartiality, neutrality, and equity" and ordered him to stop making "comments, opinions, or statements on electoral issues."
On Thursday, the panel again agreed to order López Obrador to revise a number of offending comments.
However it dismissed a complaint from Gálvez that the president had violated laws against gender-based political violence.
Electoral neutrality laws in Mexico date back to the 1990s, when lawmakers passed sweeping reforms in response to decades of single-party rule that allowed outgoing president's virtually unchallenged abilities to select their political heirs.
The reforms established mechanisms to set the time periods during which campaigns could take place, regulated campaign finance, and limited how government officials can use public funds for political communication.
"By using the mañanera, which involves spending public resources, the executive's social communication is being appropriated to attack a possible candidate," said Arturo Ramos Sobarzo, the director of the Center for Investigation and Legal Informatics at Mexico City's Escuela Libre de Derecho, referring to the president's daily news conferences.
In the days since the ruling against him, López Obrador has moved between open disregard, winking half-measures, and begrudging obedience.
After contending that he was not bound by the order because his office had not been formally notified of it, López Obrador shared a document online that purported to contain information about government contracts that Gálvez's technological services company had received. López Obrador has sought to tie the candidate to the country's historic ruling elite with the claims, which she has denied.
Gálvez has called the release of information an illegal invasion of her privacy and said she would file a complaint with the authorities.
Such brazen actions against a political rival are without precedent in recent Mexican elections, legal experts say, but the tact is familiar for a president who has relished upending norms and targeting his perceived enemies.
In a widely condemned episode last year, López Obrador publicized the salary of a prominent journalist — apparently pulled from privileged government filings — after the reporter published an investigation into one of the president's sons.
López Obrador has also pushed a legislative package that aims to diminish the election agency's autonomy and its ability to punish politicians for breaking election laws, though key pieces of the measure have been struck down by the Supreme Court.
With his disregard for the electoral ruling, López Obrador is "putting at risk what we Mexicans have built as our democratic foundations," said Ildefonso Guajardo Villarreal, the opposition coalition's director for international liaisons.
"We need the attention of international public opinion and pro-democracy organizations that will begin to take note of what we are beginning to face in Mexico in this election," he said.