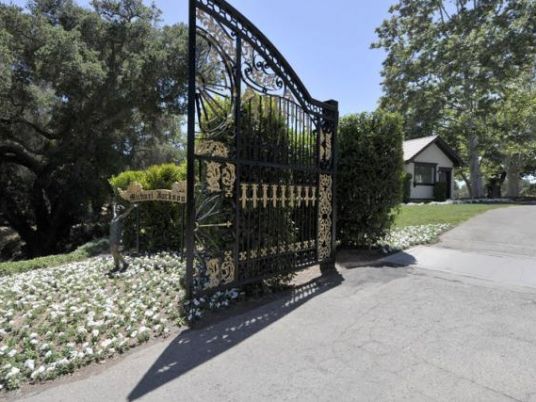 The sprawling Neverland ranch in California once owned by the late pop star Michael Jackson is for sale for $100 million, Sotheby's International Realty said on Friday.
The 2,700 acre (1,100-hectare) estate in Los Olivos, which once featured a zoo and amusement park where Jackson entertained children, has been renamed Sycamore Valley Ranch. It is being sold jointly by Sotheby's and Hilton & Hyland.
"It officially went on the market this morning," Suzanne Perkins of Sotheby's said.
Jackson, who died from an overdose of the anesthetic propofol at age of 50 in 2009, had purchased the property in 1987 for $19.5 million. After financial troubles, in 2008 he handed over the title to the ranch to investment firm Colony Capital LLC, which held his $23 million loan on the property.
"We hope and trust that any new owners of Neverland will respect the historical importance and special nature of this wonderful property. Michael's memory lives on in the hearts of his fans worldwide," the singer's estate said in a statement on Friday.
Jackson, a former child star whose hits included "Thriller" and "Billie Jean," was one of the most successful entertainers of all time and the recipient of 13 Grammy Awards.
He named the property – located in Southern California about 40 miles northwest of Santa Barbara – after the land in the fairy tale of Peter Pan by author J.M. Barrie about a boy who refused to group up. The ranch has been extensively renovated but the floral clock with the word Neverland spelled out and the railway still remain.
Perkins said she would not be giving tours of the property.