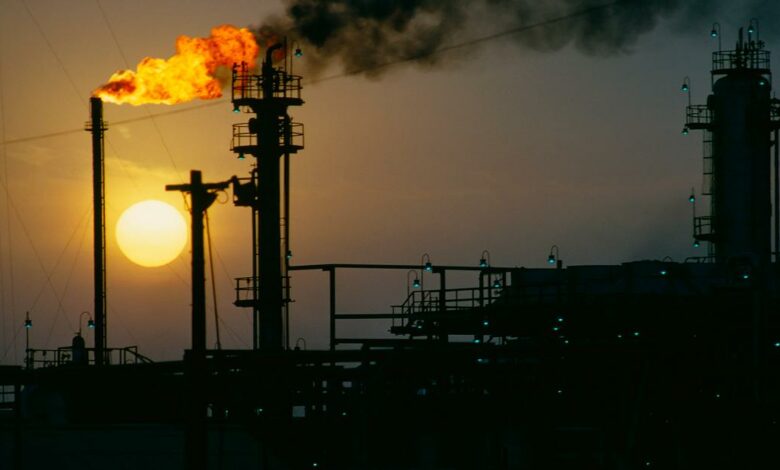 Abu Dhabi, UAE (CNN) – The Ukraine war is wreaking havoc on the world economy, but in the Middle East its impact hasn't been so grim for everyone.
Some of the world's biggest hydrocarbon producers, the Gulf nations are seeing billions of dollars added to their coffers aided by a Ukraine war-driven rally in oil prices. They are expected to register their first budget surpluses after an eight-year oil slump that was compounded by a pandemic-linked downturn.
Research by Mitsubishi UFJ Financial Group (MUFG) in February showed that Gulf Cooperation Council (GCC) countries are likely to see a GDP surge of 6.1% in 2022 on the back of increased oil prices, as well as fiscal surpluses for the first time since 2014. The GCC consists of Saudi Arabia, Oman, United Arab Emirates (UAE), Kuwait, Qatar and Bahrain.
"This will lead to an aggregate GCC fiscal surplus in 2022 of $27 billion," said MUFG, adding that recently implemented austerity measures as well as the oil surge will support balance sheets.
The Ukraine war's $7 billion hit to global tourism has Middle East hotspots 'trying to survive'
Oil prices had collapsed during the pandemic amid oversupply and diminished demand in lockdown. The benchmark Brent crude oil price was $22 per barrel in March 2020. By early March of this year, it was at a 14-year high, soaring above $130 a barrel as Russia's war in Ukraine grew increasingly violent.
Gulf states that rely on hydrocarbons for the bulk of their income are used to oil booms and busts. In the past, they have redoubled their rhetoric to diversify sources of revenue during busts but have often fallen short on those ambitions during booms.
Will this boom be any different?
Analysts say that Gulf oil exporters are aware that much of the demand is circumstantial, driven by market disruptions after Russia's invasion of Ukraine and will inevitably drop. And so, as they collect their profits, Gulf states will continue tight fiscal policy with an eye on economic diversification.
"They are not taking what's happening for granted," said Amena Bakr, chief Opec correspondent at Energy Intelligence. "They are using the current oil price to fuel these projects and diversification plans, which are going to help them when the price drops."
In the past, Gulf states engaged in public sector wage raises and generous handouts to citizens during oil booms, neglecting diversification and re-investment. That's unlikely to happen this time round, said Omar Al-Ubaydli, Director of Research Bahrain Center for Strategic, International and Energy Studies.
The windfall from high oil prices will "help alleviate short- to medium-term budgetary and liquidity problems and will help them delay the need for further fiscal restructuring," he said.
"So far the signs are that fiscal policy is made with a much steadier hand than during previous booms," said Steffen Hertog, associate professor at the London School of Economics. "Governments are sticking to their relatively austere budgets and there are no signs of big giveaways in the form of subsidies, public sector hiring or pay rises."
The mindset in the Gulf now is that economies need to fortify themselves against future crude price dips and reduce dependence on oil income, said Hertog. "Stepping up patronage as during previous booms would undermine this," he added.
The UAE is expected to have the highest economic growth in 2022, followed by Saudi Arabia, whose economy is expected to grow an average of 4.8% this year, according to the IMF's 2022 World Economic Outlook, which was published before the war.
During the downturn, Gulf states introduced value added tax and cut spending and public sector hiring, thus reducing the price per barrel needed to breakeven their budgets.
Breakeven oil prices declined significantly in Saudi Arabia, the UAE, Qatar, and Oman, said Garbis Iradian, Chief Middle East and North Africa Economist at the International Institute of Finance in Washington DC. "Most GCC countries could cope very well now if oil prices decline to around $70 per barrel, perhaps in 2023."
GCC 2022 breakeven fiscal oil price
Saudi Arabia $65.70
UAE $60.40
Oman $61.80
Qatar $40.40
Kuwait $64.50
Bahrain $85.80
Source: International Monetary Fund
But as the war in Ukraine has highlighted the West's need to reduce its dependence on hydrocarbons, it has also exposed the difficulty in doing so. Gulf states have repeatedly said in the past weeks that the Ukraine war has proven that Europe's desire to move away from hydrocarbons was premature.
UAE Environment Minister Mariam Al Mheiri called the current crisis a "reality check" for the world, saying that the market disruptions caused by Russia's invasion of Ukraine showed that global systems are not ready to fully abandon hydrocarbons, reported Abu Dhabi's state-backed The National newspaper.
"What Gulf states are saying is that the pace of the transition needs to be managed because all forms of energy need to be used," said Bakr. "Renewable energy is still not up to speed and can't replace hydrocarbons … [and] can't fill in that baseload that is required to meet demands."
The demand for oil in the global market has boosted the GCC's confidence in demand for their main commodity and their ability to bounce back, analysts say.
"I think they [Gulf states] are more confident that they can sustain the prices needed to break even fiscally — around $70 per barrel — for a lot longer," said Hertog.
The US Energy Information Administration forecasts benchmark Brent oil prices to average $116 per barrel this quarter, above each of the Gulf states' fiscal breakeven prices.
Additional reporting from Abbas Al Lawati