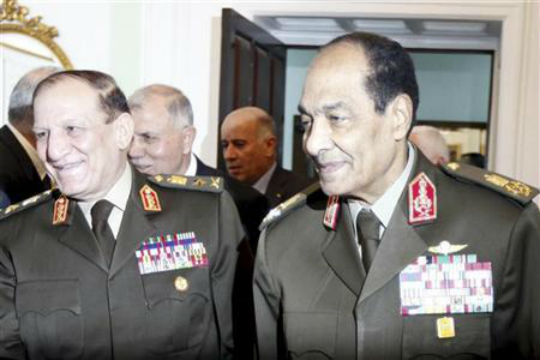 The state of emergency ended Thursday, and the ruling military council said it would not extend the 31-year-old policy of enforcing the Emergency Law in Egypt.
In a statement released by the Supreme Council of the Armed Forces' media department, the junta said it would continue to rule until the end of the transitional period and the handover of power to an elected president.
"Out of the armed forces' sense of national and historical responsibility, and in light of the state of emergency's expiration, the application of the provisions of the Constitutional Declaration and the law, and in response to national, popular and political aspirations, the SCAF assures the Egyptian people that it will continue to bear the national responsibility of protecting the homeland and its citizens during this important stage of our nation's history and until power is handed over," read the statement.
Article 59 of the March 2011 Constitutional Declaration says: "After deliberating with the Cabinet, the president must announce the state of emergency in the manner prescribed by the law and this announcement must be submitted to the People's Assembly within the next seven days in order for it to form a decision regarding [the law]." The article also states that the state of emergency announcement "must be approved by a majority of members of Parliament."
The Emergency Law, which lays out the actions that the government can take during a state of emergency, was put in place following the assassination of former President Anwar Sadat in 1981. The law's first article says that a state of emergency can be declared whenever there is a risk to security or public order anywhere in the country, whether from war, risk of war, internal disturbances, public disasters or pandemics.
On 23 January, Field Marshal Hussein Tantawi, near the first anniversary of the 25 January revolution, decided to lift the state of emergency, he left in place a clause stating that the Emergency Law could be applied in cases of "thuggery," without spelling out what this meant.
A disagreement then erupted between political forces and legal scholars about how to interpret "thuggery" under the law.
Edited translation from Al-Amsry Al-Youm