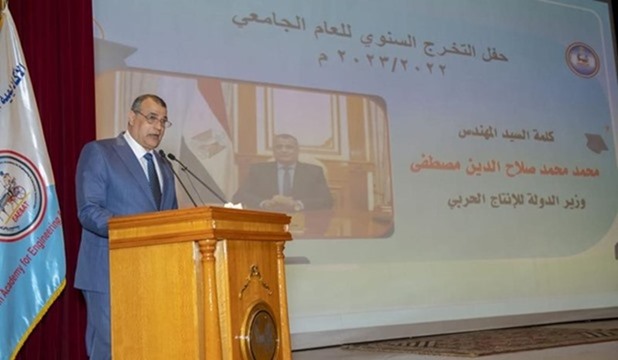 Minister of Military Production Mohamed Salah Eldin Mostafa and Minister of Youth and Sports Ashraf Sobhi witnessed graduation of the fourth batch of the Egyptian Academy for Engineering and advanced Technology (EAE&AT), affiliated to the Military Production Ministry.
Addressing the ceremony, Salah Eldin extended thanks to all attendees and parents of graduates, noting that the ministry was keen on empowering youths and honing their skills in order to be qualified for the labor market and contribute to building their country's future.
He said the Ministry of Military production was deeply keen on upgrading its educational system especially the technical education to be closely linked with industry and scientific research.
He also briefed attendees on the cabinet's approval on establishing a national university for science and technology after it was referred to the cabinet from President Abdel Fattah al-Sisi.
Meanwhile, Sobhi was keen on greeting the graduates, saying engineers could effectively contribute to building, developing and preserving their country.
He also praised the efforts of the Military Production Ministry in upgrading technical education in Egypt.