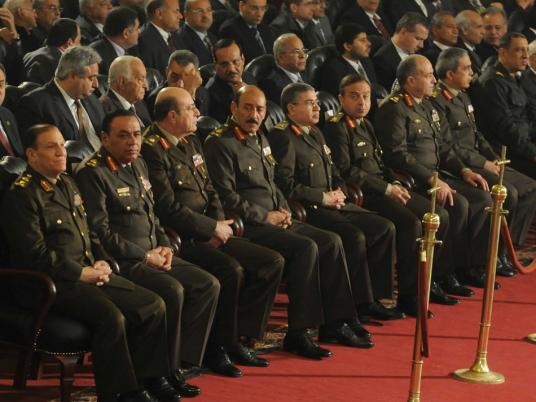 Egypt's ruling military leaders once again emphasized that the military was a partner in the 25 January revolution, saying the revolution has eliminated the oppression the country has seen over the past decades.
The ruling Supreme Council of the Armed Forces (SCAF) also said it will soon reveal secrets and facts that will make Egyptians proud of their armed forces.
"One whole year has passed since the outbreak of the 25 January revolution, but it is still not the time to disclose several facts concerning the months that preceded the revolution so that it will not be said that we are trying to beautify our image," the council wrote on its official Facebook page.
"The time will come when we will talk while we are at our units protecting the land, skies and seas of Egypt. Then we will reveal several truths that will make this nation proud of its armed forces," SCAF said.
The armed forces predicted the outbreak of the revolution months before it erupted, SCAF said in the message, though it did not know who would lead it until the youth "laid down their lives for Egypt in face of the most ferocious tools of suppression."
The military supported the revolution, and God gave Egyptians victory, the message said. It said the armed forces are committed to handing over power on 30 June.
The military lifted the notorious long-standing Emergency Law and fostered parliamentary elections, the message reiterated.
"Next, the Shura Council elections will be held, the constitution will be drafted, and then the presidential elections will be held, so we will return to our units on 30 June seeing Egypt clad in the robe of freedom and democracy," SCAF said.
The military council statement comes amid protests on the 25 January revolution anniversary to demand it relinquish power.