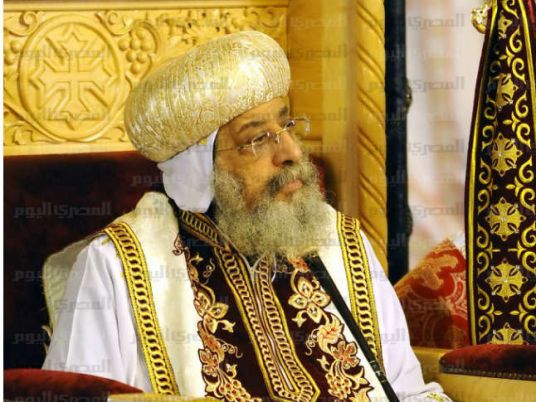 Members of the Millet Coptic Council, which is affiliated to the Orthodox Cathedral in Alexandria, said on Friday that calls by some Coptic activists to dismiss Pope Tawadros are totally rejected, adding that the selection of the pope is a divine choice and dismissing him is a 'red line'.
The council refused the campaign entitled 'Scream' launched by some Coptic activists to withdraw confidence from the pope. It described him as being "unable to resolve the problem of second marriages'.
Mohsen George, member of the council, said, "The call to dismiss the pope is totally rejected by the people, church and secularists, simply because the pope Tawadros II is a divine choice of God and no one can call for his dismissal."
"Like our church taught us to obey our leaders, it also taught us to discuss issues," he told Al-Masry Al-Youm. "Rejection is not a crime, but in the educational church style this does not conform to church teachings."
He also called on the media to be cautious while circulating any information that could cause strife between the church and its followers.
Edited translation from Al-Masry Al-Youm