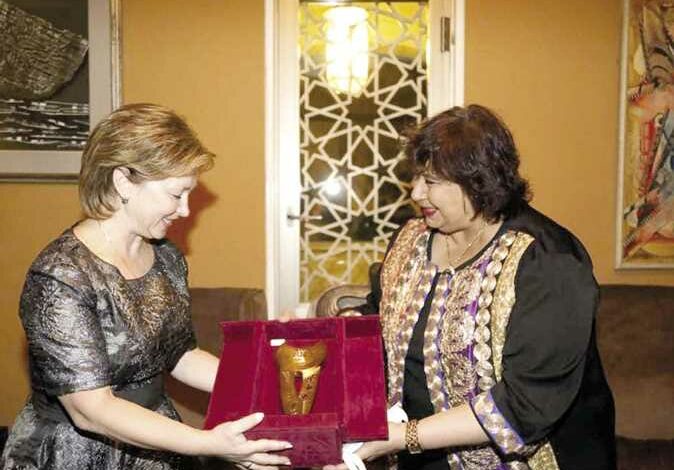 Minister of Culture Enas Abdel-Dayem and Russian Deputy Minister of Culture Olga Yarilova on Saturday launched the Egyptian-Russian Year of Humanitarian Exchange 2021/2022 at the Cairo Opera House.
Abdel-Dayem said that the ministry has prepared an agenda that includes 23 events in 2021, starting from Egypt and ending with Moscow in May 2022, in addition to choosing Russia as the guest of honor for the Ismailia International Festival for Documentary and Short Films.
These events continue through seminars, book fairs, plastic arts and heritage crafts, and the impact of Russian literature on Egyptian literature, with an exchange of artistic teams between the two countries in addition to issuing a group of translators from Russian into Arabic and vice versa.
Yarilova said that this year will be supportive of mutual relations between the two countries.
The Russian ambassador in Cairo explained that despite global restrictions, human relations between the two countries are getting stronger.
Abdel-Dayem said that this year of human exchange between Egypt and Russia is one of the largest and most important events between the two countries and a rich addition to cooperation between them.
She explained that this showcases the importance of the role soft forces play in building bridges of communication between people despite language barriers.
Abdel-Dayem added that this year restores the balance of Russian creativity that inspired many Egyptian creators.
She expressed hope that these events will be the beginning of new horizons to enhance joint cooperation in various fields of culture and arts.