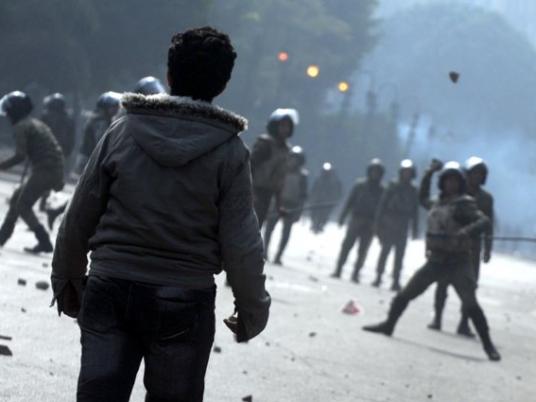 Egyptian prosecutors on Wednesday began investigating accusations that two of Egypt's new ministers trumped up charges against suspects arrested for alleged involvement in recent clashes in Cairo.
The public prosecution is investigating the accusations, which are leveled at Interior Minister Mohamed Ibrahim and Information Minister Ahmed Anis, who is a retired army general and former head of the military's morale department.
The recent round of clashes erupted last Friday after military officers attempted to disperse a sit-in at the cabinet building downtown. The violence led to at least 12 deaths, according to the Health Ministry.
Tareq al-Awady, head of support for the State of Law Center and the lawyer for three brothers charged with involvement in the events, said Egyptian state TV broadcast a video in which the suspects appeared to confess.
Awady told Al-Masry Al-Youm that security forces arrested the brothers on unrelated charges three days before the clashes broke out.
He accused Ibrahim, Anis and the head of Egyptian state TV's Channel One of "misleading public opinion and trumping up charges against the suspects."
Judicial sources, meanwhile, said investigators heard the testimony of the mother of the three boys, Amena, on Wednesday.
The mother said police broke into their home on 14 December and arrested her three sons. When she asked the police where they were taking her sons, they refused to answer.
She was then surprised to see Channel One presenting her three sons as suspects in the cabinet clashes.
Amena said she filed a report with the attorney general, stating that her sons were arrested prior to the cabinet clashes. She called for the people who broadcast the recordings of her sons to be investigated.
During a press conference on Monday, Supreme Council of the Armed Forces (SCAF) member General Adel Emara accused local and foreign elements of spreading chaos and seeking Egypt's destruction.
Emara then showed videos that he said revealed a plan targeting Egypt's security. Activists mocked the videos when they were shown.
One of the videos showed someone accusing the owner of Merit Publishing House, Mohamed Hashem, of paying people to clash with security forces.
Translated from Al-Masry Al-Youm