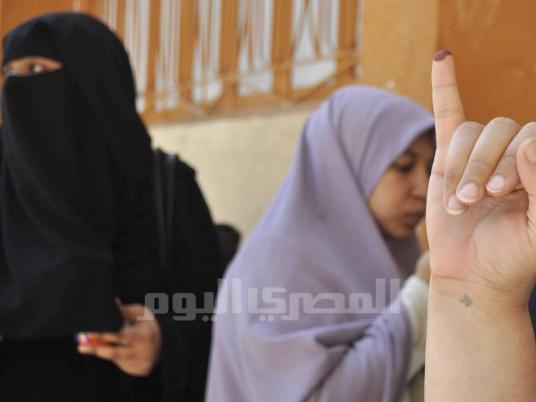 The presidential runoff elections are still witnessing low voter turnout rates in the south-central governorate of Minya.
Often referred to as the "Bride of Upper Egypt," the city of Minya is located about 250 km south of Cairo. Although the city is largely covered by the campaign posters of the Muslim Brotherhood's Mohamed Morsy and former Prime Minister Ahmed Shafiq (with more of the former candidate), the voter turnout rate was visibly low in comparison to the People's Assembly elections and the first round of the presidential race.
Only a few short lines could be seen outside the schools that had been turned into polling stations. There were longer lines of vehicles waiting for gasoline and diesel, which have been scarce recently.
Hot weather might be behind the low voter turnout, but political reasons also explain the lack of interest.
Nagwa Abdel Maqsoud, a middle-aged voter standing outside the Abna al-Thawra Secondary School, said, "There were many people lining up to vote during the morning. The hot weather has kept many people at home, or indoors, today." She expected more people to show up and vote during the evening when weather grows cooler.
However, voter numbers did not significantly increase during the evening of the first day of the runoff.
Mahmoud Atef, a young voter standing outside Minya Primary School for Boys, said "the heat has kept many people from voting today. But I believe that it is the bitter choice of presidential candidates which has kept the majority of people away today."
Despite the low turnout, a couple of election-related scuffles and fistfights have been reported.
Campaigning turned into heated physical confrontations on Saturday in the town of Abu Qurqas. Representatives of Shafiq and Morsy locked horns today at the Salah Salem Primary School for reasons that were not clear. No serious injuries were reported, and the conflict was reported to be peacefully contained by security forces stationed around the polling station.
On Thursday, prior to the runoff, another clash was reported to have taken place in downtown Minya City. This conflict involved Shafiq campaigners and members of the April 6 Youth Movement, who recently announced their support for Morsy in the runoff. Fistfights are reported to have taken place in Palace Square after the two camps began chanting opposing slogans.
A significant number of Coptic Christians live in this city and the governorate as a whole, many of whom have been seen voting today. Most of Minya's Copts are expected to vote for Shafiq, in light of Morsy's Islamist agenda. The campaigns and counter-campaigns of the two finalists have sought to allay fears and woo Egypt's Christian minority. In doing so, the campaigns have brought a sectarian element into the presidential race.