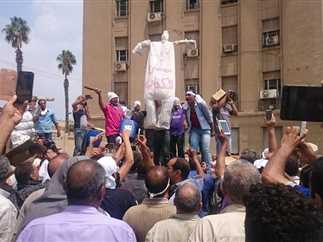 Workers at the Minya Textile Factory continued their strike on Thursday for the fourth day in a row to demand an increase in allowances for high living costs. They demanded that allowances increase from LE10 to LE200.
The workers listed 11 other demands, including the addition of social allowance to basic salaries, increasing the profit ratio from five months to 6.5 months, raising the daily incentive from LE225 to LE300, and laying off workers more than sixty years old.
Strikers also demanded the replacement of factory floors and lighting, holiday allowances issued on time (LE75), the purchase of new cotton materials, and increases in the daily laborers' salary.
The workers refused mediation proposals by labor office representatives and security services, continuing their strike and sit-in.
Factory management filed a claim with the police against the strikers and accused 10 workers of instigating the strike.
Workers who requested to remain anonymous said that the crisis started when factory management refused to apply President Abdel Fattah al-Sisi's decision to raise the high cost of living allowance from LE10 to LE200.
The change was ordered by the President of the Republic to meet the recent increases in the price of fuel, but the management of the factory refused, prompting workers to strike and sit-in on the factory, demanding the implementation of their legitimate demands, they said.
Mohamed Khalaf, director of the Minya Textile Factory, said that the workers' strike is causing losses of LE100,000 per day, totaling LE400,000 over the four days.
The factory works with a capacity of 5,300 tons daily, he said.
Mediation attempts have failed. Yehia Mohamed, the director of the Labor Office, has promised to study the demands with the management of the factory.
Edited translation from Al-Masry Al-Youm