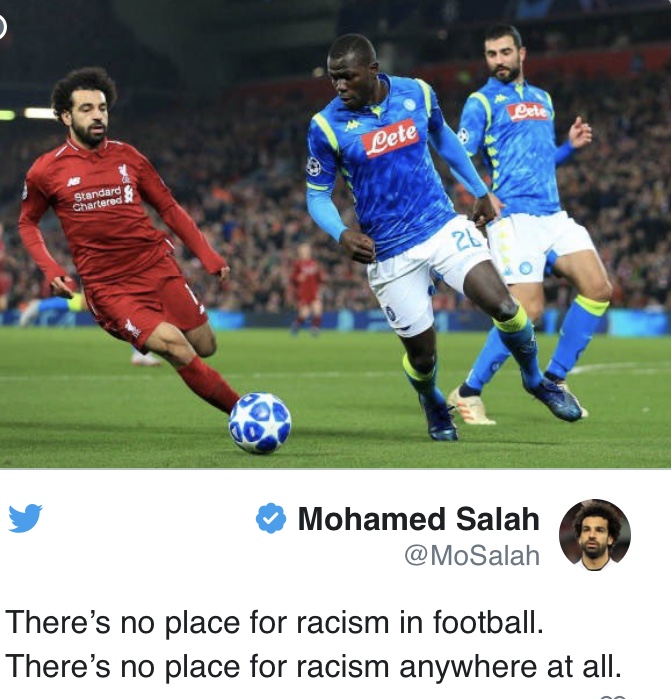 Egyptian footballer and Liverpool striker Mohamed Salah published a tweet in which he criticized racism in general and in the world of football in particular, commenting on a picture he had with Senegalese player Kalidou Koulibaly.
"There is no place for racism in football, there is no place for racism anywhere at all," Salah said in the tweet at a time of growing controversy over Liverpool's intention to contract with an Israeli player named Moanes Dabour.
There's no place for racism in football. There's no place for racism anywhere at all. pic.twitter.com/d2YwWSbXJe

— Mohamed Salah (@MoSalah) December 27, 2018
Activists on social media raised the controversy questioning Salah's response to such a move, CNN website reported.
They also circulated statements by MBC host Amr Adib in this regard.
"Liverpool club, for which our son Mohamed Salah is playing, mulls using an Israeli player named Dabour who plays in Austria. I am not talking about a sports issue; I am talking about a very systematic and intellectual issue touching every Arab…Just wondering what Mohamed Salah will do," Adib was quoted as saying on MBC a few days ago.
"People started to talk about how Salah would play with an Israeli…Regardless of football, this Israeli is a Muslim Arab who belongs to the 1948 Arabs who are not responsible for their nationality. Even if he is an Israeli who is neither Muslim nor Arab…should Salah leave [Liverpool]? Excuse me, is it the Egyptian Premier League [so he takes this step]? It's the English Premier League!" CNN quoted Adib as saying.
"We regret seeing people who are encouraging Mohamed Salah to leave Liverpool in case Israeli player Moanes Dabour joins the team," the Israeli Foreign Ministry's "Israel in Arabic" Twitter account said in a previous tweet.
"These voices bring politics into the sport. We hope that if Dabour joins Liverpool, we will see good cooperation between two outstanding players on the pitch to achieve better results for the English team," the tweet added.
Edited translation from Al-Masry Al-Youm