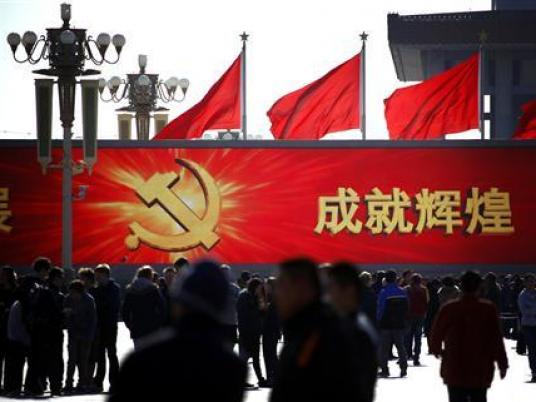 Moody's downgraded its outlook on Chinese government debt to "negative" from "stable" on Wednesday, citing uncertainty over authorities' capacity to implement economic reforms, rising government debt and falling reserves.
The Moody's downgrade comes just days before the National People's Congress (NPC) is due to vote on China's 13th five-year plan, a closely held development blueprint for the next five years, which policymakers began formally drafting in 2015.
Analysts will closely scrutinize the NPC's final text for hints on the likely trajectory of reform and policymakers' thinking on the appropriate growth strategy for China — key factors highlighted by Moody's in the report issued on Wednesday.
"Without credible and efficient reforms, China's GDP growth would slow more markedly as a high debt burden dampens business investment and demographics turn increasingly unfavorable. Government debt would increase more sharply than we currently expect," Moody's said.
The agency said its rating committee had discussed China's status at a meeting on February 9, during which the country's institutional and fiscal strength, as well as its susceptibility to event risk, were reviewed.
The agency said the downgrade was driven by expectations that China's fiscal strength will continue to decline, as well as the fall in its foreign exchange reserves which have shrunk by US$762 billion over the last 18 months.
It also said that policymakers' credibility was at risk of being undermined by incomplete implementation or partial reversals of some reforms.
"Interventions in the equity and foreign exchange markets over the past year suggest that ensuring financial and economic stability is also an objective, but there is considerably uncertainty about policy priorities," Moody's said.
Moody's, however, retained China's Aa3 rating, noting the country's sizeable reserves gave it time to implement reforms and gradually address economic imbalances.
But the agency warned that it could further downgrade China's rating if it saw slowing down of reforms needed to support sustainable growth and to protect the government's balance sheet.
"It's not a worrying sign yet, but rather a negative direction. That's what Moody's is flagging," said Trinh Nguyen, senior economist for emerging Asia at global asset manager Nataxis.
"But they (Chinese authorities) have room to do this. They have one of the lowest government debt as a share of GDP in comparison to other emerging nations. And most importantly, as China has a current account surplus it can fund its own fiscal expansion."
Initial market reaction to the outlook change was muted, although the cost of insuring Chinese government debt against default rose slightly.
"The drivers — local government debt, capital outflows, falling reserves and concerns on the progress of reforms — are all well recognized by investors and a lot of them have arguably already been priced in," agreed Aida Yah, Senior Emerging Market Asia Economist at AXA Investment Managers.
High and rising corporate debt
A major rationale for downgraded outlook, Moody's said, was the large stock of contingent sovereign liabilities such as state-owned corporations' debt, local government debt, and the debt of China's big "policy" banks — the Agricultural Development Bank of China, China Development Bank, and the Export-Import Bank of China.
While Moody's put actual government debt at only 40.6 percent of GDP at end-2015, Standard & Poor's estimated in July that corporate debt had already risen to 160 percent of GDP in 2014, twice the level in the United States and up from 120 percent in 2013.
"There has been a lot of poor credit allocation, with too much credit directed at inefficient state firms and not enough going towards smaller efficient firms," said Julian Evans-Pritchard, China Economist at Capital Economics in Singapore.
In a separate note on Wednesday, ratings agency Fitch also highlighted rising risks to Chinese banks from accelerating credit growth.
"The 50bp cut to the reserve requirement ratio (RJR) for Chinese banks on Tuesday, together with record loan growth in January, could point to an increasing likelihood that the authorities are shifting policy to enable more credit-fueled growth," Fitch analysts wrote.
"Rolling over more debt will only delay and not resolve an expected rise in non-performing loans."
On Tuesday, the People's Bank of China cut bank reserve ratio requirements by 50 basis points, releasing an estimated $100 billion of cash for lending.