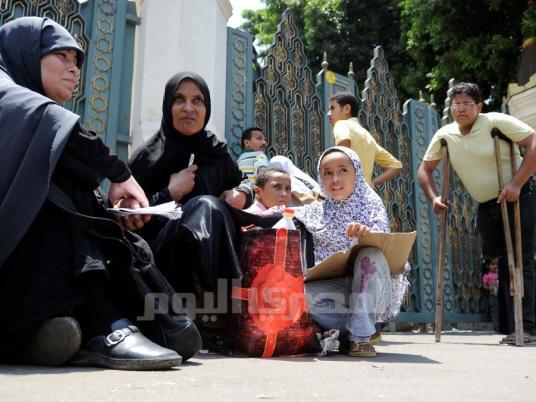 Protesters returned to the presidential palace in Heliopolis Saturday after two days of relative calm, with fertilizer plant workers from Damietta and dozens of Coptic Christians staging two separate demonstrations.
The workers, from the fertilizer company MOPCO, demanded the reopening of their plant, while the group of Coptic Christians objected to the visit of US Secretary of State Hillary Clinton to Egypt.
Hundreds of employees of MOPCO, which manufactures nitrogen fertilizers in Damietta, demonstrated directly in front of Gate 3 of the presidential palace, calling on Morsy to implement the administrative court ruling that ordered the plant, which has been closed for 8 months, to be reopened.
They also called for the police to protect them from assaults they said they have been subjected to during their sit-in.
Protesters at one point attempted to block the road next to the palace, but were stopped by police.
"You can stage a sit-in as you like, but you cannot block the road," one officer said.
Dozens of Coptic Christians also protested outside the presidential palace to reject Clinton's visit and what they called US intervention in Egypt's internal affairs, under the pretense of protecting minorities.
The protesters raised banners that read in English: "Devil Hilary Clinton, go back to your country, leave the Egyptians in peace."
"As Copts, we reject the US secretary of state's visit to Egypt and the US intervention in Egypt's internal affairs under the pretense of protecting minorities," said Wageeh Yacoub, the organizer of the protest. "These are pretexts that the US uses to implement its agenda of dividing Egypt and the Middle East."
Edited translation from Al-Masry Al-Youm