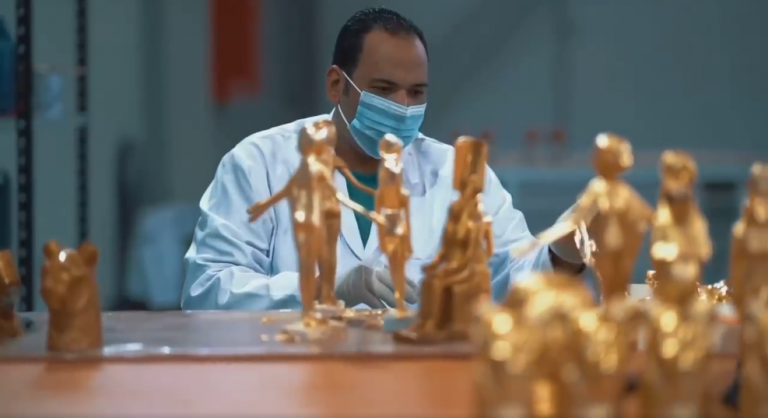 Over 20 ambassadors and their spouses on Tuesday toured the antiquities replicas factory in Obour City, inaugurated by Minister of Tourism and Antiquities Khaled al-Anany in March in cooperation with Kenouz Co. Egypt.
The factory produces high quality replicas of world-famous Egyptian artifacts, with a certificate and stamp of authentication from the Supreme Council of Antiquities to ensure their quality and that they are "Made in Egypt."
Anany explained that this was a vital step, and expressed his pride at the project's successful completion after it was started a year and a half ago. It aims to keep keep the pace with the local and global market's needs for manufacturing archaeological replicas, and will be worked on by highly competent Egyptian artists and specialists.
The minister assured that first and foremost the purpose of this project is not commercial, but instead seeks to introduce Egypt's industry to the world while protecting its cultural heritage and the property rights of its artifacts.
All replicas produced in the factory will have a special stamp of approval from the Supreme Council of Antiquities, he explained, with a certificate to show it is not an authentic artifact but one produced by the ministry. A barcode present on each product will display this information in English and Arabic, alongside other details such as he material it is made of, the weight, name and place of display of the original piece.