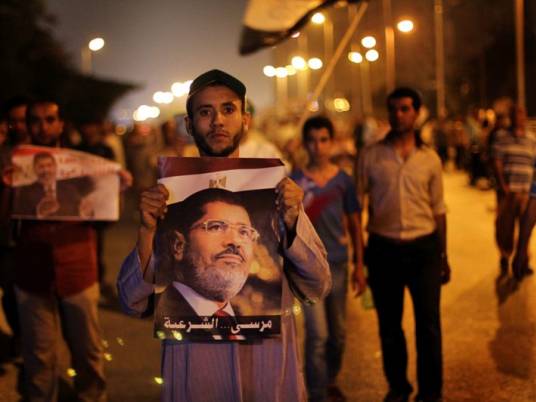 The Supreme State Security Prosecution has not yet interrogated ousted President Mohamed Morsy on charges of espionage and incitement to kill demonstrators or in the Wadi al-Natrun prisoners escape case.
Assistant Prosecutor General Adel Saeed told Al-Masry Al-Youm that the prosecution is still investigating reports filed against Morsy and gathering evidence affirming the validity of the charges brought against him and the leaders of the Muslim Brotherhood. He added that no specific date has been set to question Morsy.
Meanwhile, judicial sources said that the State Security Prosecution on Sunday asked intelligence authorities about the location of Morsy's detention, so that a team from the prosecution could head there to interrogate him.
This comes after local and international human rights organizations filed requests to Prosecutor General Hesham Barakat to disclose Morsy's place of detention. The State Security Prosecution has not received an answer to its request so far.
The Supreme State Security Prosecution has received a copy of the ruling issued in the Wadi Natrun prison break case, in which Morsy and 34 other Muslim Brotherhood leading members face charges of breaking out of prison, contacting foreign elements, espionage, and high treason. The prosecution is currently collecting eyewitness testimony that indicts Morsy and other Brotherhood leaders.
In this case, the prosecution is relying heavily on the testimony of Major General Mahmoud Wagdy, a former interior minister.
Tharwat Hammad, the judge appointed to investigate incidents of "humiliating" the judiciary, also inquired about the whereabouts of Morsy to have him interrogated after he claimed in a speech during his presidency that there were more than 22 judges accused of bribery and vote rigging during the 2005 parliamentary elections.
Edited translation from Al-Masry Al-Youm