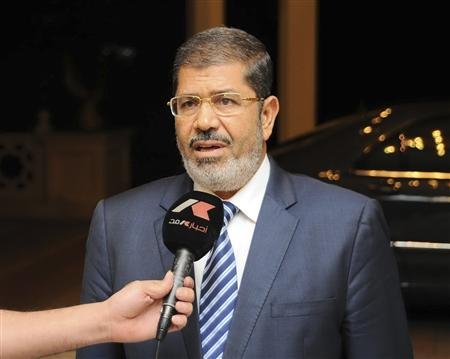 Don't pay attention to "those who want to waste Egyptians' time with controversy," said President Mohamed Morsy on Friday, indirectly alluding to the waves of protests against the new constitutional declaration that grants him unprecedented powers.
Morsy made his statement after performing Friday prayers at the Al-Hamad Mosque in the Fifth Settlement.
"The Prophet did not pay attention to all the warnings against his emigration (from Mecca to Medina), but prepared a good plan carried out by the grace of God, and thereby won," Morsy said.
He called on the Egyptian people to "unite under the circumstances the country and the Arab region are experiencing," and to "be confident that God will grant victory to this country."
Egypt has "enemies who do not want it to stand up," Morsy warned.
"I do not mean specific persons with 'enemies,' but enemies could use some unaware domestic parties that have a narrow vision or are impatient," he claimed.
"We are moving forward. Nothing will stop us," Morsy added. "Egypt will overcome its ordeal … The issue requires an accurately developed well implemented plan."
Morsy's constitutional declaration, announced on Thursday night, makes all decisions he has made since assuming office on 30 June binding and uncontestable, and also safeguards the Constituent Assembly and the Shura Council —both of which are dominated by Islamists — from dissolution by the judiciary.
The Constituent Assembly had been awaiting a court ruling over its validity, but the case is now voided by the declaration. The declaration also buys the assembly more time to draft the constitution, extending its deadline by two months.
Protests against Morsy swept across several governorates on Friday. In addition to the thousands gathered in Tahrir Square, citizens in Alexandria, Assiut, Suez, Ismailia and Port Said took to the streets to protest Morsy's declaration.
Several of Morsy's assistants and advisors have announced that they will quit their posts in response to the constitutional declaration. Samir Morcos, a Coptic writer and presidential advisor on democratization, told Al-Ahram newspaper on Friday that he already wrote his resignation letter and would submit it within few hours.
Morcos said that his resignation is an objection to the constitutional declaration and the decrees that followed it. He added that he wasn't consulted in the process of issuing the declaration.
Edited translation from Al-Masry Al-Youm