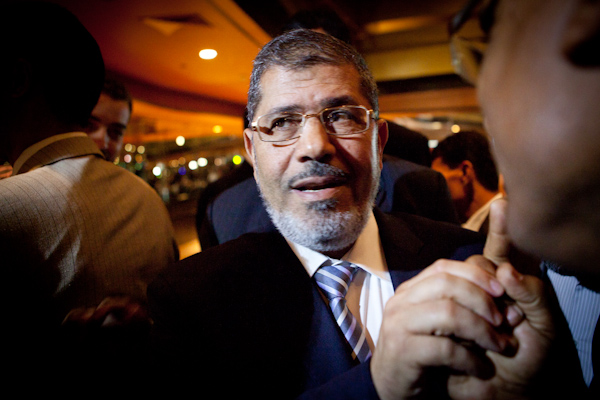 The Freedom and Justice Party's presidential candidate Mohamed Morsy respects the Supreme Constitutional Court's ruling against the Political Isolation Law, he said Thursday.
The law would disqualify high-ranking members of former President Hosni Mubarak's regime from voting or holding public office. Thursday's ruling found the law unconstitutional, keeping Morsy's rival, former Prime Minister Ahmed Shafiq, in the runoff election scheduled for 16 and 17 June.
On Thursday, the SCC also found the law governing the parliamentary elections unconstitutional, a ruling that would lead to the dissolution of Parliament.
In an interview with Wael al-Ebrashy on Dream 2 satellite channel on Thursday, Morsy said he is not completely satisfied with the ruling because he knows that the Egyptian people supported the Political Isolation Law, but added that he respects the verdict nonetheless.
When asked to respond to fears regarding potential elections rigging, Morsy said that he is worried that former regime figures could use money to influence the will of the people.
"Our fear pushes us to work, and Egyptian people from all segments of society will go out to say yes to the revolution, and no those who want to violate its dream," he said. Morsy went on to assert his right to view a copy of the voter registration lists prior to the runoff election in order to prevent voter fraud.
Morsy slammed Justice Minister Adel Abdel Hamid's decision to give military officers and personnel the right to arrest citizens, which was announced Wednesday.
"It looks like the Emergency Law is coming back," Morsy said, but he rejected the idea that the decree constitutes a military coup, as others have suggested.
Edited translation from Al-Masry Al-Youm.